This post contains affiliate links.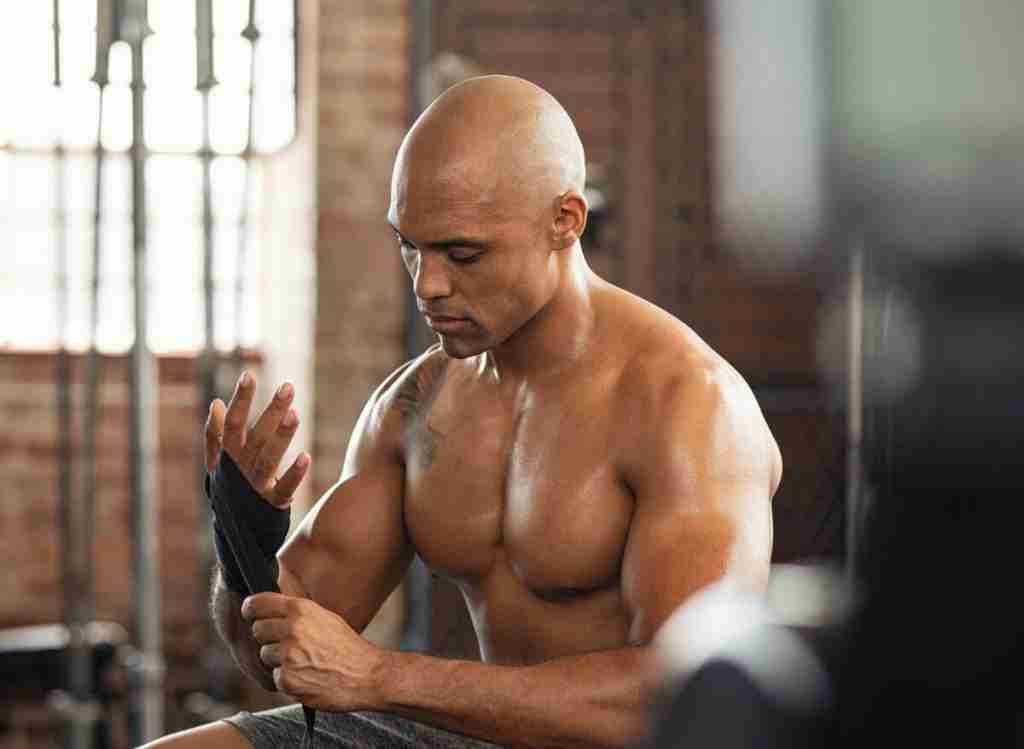 Workout gloves have been around forever and are essentially used to grip and protect your hands from tearing up with aggressive bar knurl. And the truth is that CrossFit will tear up your hands sometimes. However, wearing the wrong gloves can impede your workouts. So what are the best Crossfit gloves?
Different people prefer different kinds of workout gloves. But, currently, the best CrossFit gloves are:
Before looking into grips or gloves, though, first, learn the proper gripping techniques and ensure you are gripping the bar or rings correctly.
Read on to find out everything you need to know about choosing the best Crossfit gloves for pull-ups, chin-ups, or pretty much any other exercise that requires a solid grip. 
See also: Crossfit Vs. Gym: Which One is Better For You?
Are Crossfit Gloves Worth It?
Crossfit gloves are worth it because they provide extra support to your hands and fingers. In addition, gloves are great for banging out some kipping pull-ups or bar muscle-ups, and they will help when it comes to ripping and tearing.
However, there are a set of exercise movements that aggravate your hands. Your Crossfit gloves will not help make those movements any better. If ripped or injured, no Crossfit gloves will help you.
For instance, if you have a nasty tear but don't want to take several days off to let it heal, you can use gloves while you recover if you don't have to use tape. Some cross-fitters might tell you that calluses are generally the preferred gloves.
Benefits of Wearing CrossFit Gloves
Wearing Crossfit gloves provides tremendous benefits, and here are the main benefits of wearing CrossFit gloves.
1- Wearing Crossfit gloves Give You a Better Grip
One of the main benefits of wearing Crossfit gloves is that they provide a better grip. And holding heavy barbells or dumbbells can be challenging, and many guys will find that they tend to slip, particularly when their hands get sweaty. 
A solid Crossfit glove helps you improve your grip while weight lifting or performing other exercises, especially beneficial during Crossfit training pull-ups and deadlifts. And workout gloves are designed to help you firmly grip the weights you are lifting.
In addition, gloves ensure that sweat never causes the weights to slip out of your hands. If you have small hands, you may enjoy the added security of a glove, mainly when you sweat. Also, gloves can absorb excess sweat on your hands and prevent equipment from slipping, particularly during a kettlebell swing. 
2- Crossfit Gloves Provide Comfort 
Wearing Crossfit gloves is more comfortable than working out barehanded. And, sometimes, weights can be hot, cold, and uninviting to wrap your hands around, and wearing gloves can effectively protect your hands from these elements. 
You will experience this situation, primarily if you work out in colder climates, because iron can get pretty cold, and workout gloves will essentially protect you from this unpleasantness.
Wearing gloves during functional training helps you keep your hands smooth and callus-free. You may have heard the stigma of having callused hands as a badge of honor, but people can tell that from seeing your toned body.
3- Wearing Crossfit Gloves Might Improve Hygiene
When you use gym equipment or place your hands on the mat during your functional training workouts, you may expose yourself to harmful bacteria, viruses, and fungi. 
Since not all gym users have perfect hygiene, wearing Crossfit gloves may help keep you healthier by limiting your exposure to bacteria. 
Gloves help prevent calloused and blistered hands and reduce abrasions caused by rough gym equipment, which can also be possible entry places for bacteria and viruses.
4- Wearing Crossfit Gloves Provide Wrist Support
Wearing Crossfit gloves can also provide an additional benefit by supporting your wrist. Crossfit gloves usually have a velcro strap that you can wrap tightly around your wrist, making it feel more stable.
Some cross-fitters believe that wearing Crossfit gloves can prevent wrist injuries and rehabilitate current wrist issues while still weightlifting.
Cons of Wearing 
Like anything, wearing Crossfit gloves also has some drawbacks. Here are the most common disadvantages of wearing workout gloves.
5- Wearing Crossfit Gloves Can Negatively Affect Your Grip
Crossfit gloves can hurt your ability to grip the weights correctly. And, generally, the thicker the bar, the harder it will be to get a solid grip on it. When you wear Crossfit gloves, you are effectively adding an added layer of thickness to the bar.
And depending on the quality of the gloves, it can be pretty notable. On exercises such as deadlifts or rows, or pull-ups, you may find that wearing workout gloves limits your ability to lift as much weight because your grip will often give out before the muscles you are primarily training do.
In addition, wearing Crossfit gloves can put unwanted pressure on your wrists, which increases the likelihood of getting injuries over time. It will often make your weightlifting more challenging since the bar positioning will be off during the movement. 
6- Lifting Technique
For specific workouts, such as bench presses and shoulder presses, you must keep the bar in the palm of your hand, close to your wrists.
Wearing exercise gloves will often force the bar to move up towards your fingers because of the glove's increased bulk and putting unwanted pressure on your wrists and increasing the likelihood of injuries over time.
In addition, wearing exercise gloves will often make your weightlifting more challenging since the bar positioning will be off during the movement.
7- Dependency
Wearing fitness gloves can create dependency, meaning that your workouts will not feel right without wearing your special gloves.
So, what will happen if you forget your Crossfit gloves? Will you always have your gloves with you? Learning the proper way of performing CrossFit Foundational Movements is fundamental when lifting weights.
Choosing the Best CrossFit Gloves That Suit you Well
The best Crossfit gloves are the ones that best fit you and provide you with all the benefits of wearing Crossfit gloves. If you are looking for gloves that offer support, look for a pair with wrist wraps included. 
If you want to protect yourself from germs, essentially choose a lightweight glove that does not slip and covers most of your exposed skin. And whenever you pick Crossfit gloves, make sure they have the following key features.
Durability
Durability is an essential feature whenever shopping for a good pair of Crossfit gloves. 
Look for a pair of gloves with double-layered palms and reinforced stitching.
Materials
A good pair of gloves are breathable and offer support and protection where you need it. In addition, they will allow you to still "feel" and experience when you grip something. 
Look for materials such as leather, neoprene, silicone, and lycra. 
Breathability
Breathability is an important feature to look for when looking for the best CrossFit gloves. 
Breathable gloves are more comfortable because they will prevent sweat hands into the glove and are more resistant to odors.
Machine Washable and Texting Friendly
Even the most breathable gloves will stink if you don't wash them. 
It is great to buy Crossfit gloves that you can throw into the washing machine with the rest of your gym gear. Before purchasing any hand gear, make sure you can wash it.
Another non-essential feature is texting friendliness; if you like to use your phone while still wearing gloves.
Best Crossfit Gloves
I researched, and here is what I found: the best crossfit gloves:
1- Bear KompleX 3 Hole Leather Hand Grips
These grips from Bear KompleX are an excellent choice if you aren't the full gloves-wearing type of person.  
These Crossfit gloves are designed to keep your fingers free and give you a feeling of gloveless hands. In addition, they are highly breathable, texting friendly, and will prevent hand sweat. Their wrist straps are adjustable to ensure a perfect fit for everyone.
These CrossFit gloves come in 3 different colors and three different sizes ( here is a link on Amazon)
2- JerkFit WODies Hand Grips with Wrist Wraps
Whether it is pull-ups, chin-ups, barbells, deadlifts, or anything in between, WODies offers complete wrist support and palm protection, helping you rule the day and get the most out of your every exercise.
JerkFit WODies Hand Grips are also adjustable on the fly to handle any movements you put them through. If you are one of those cross-fitters who want to keep their hard-earned calluses, then the JerkFit WODies Hand Grips are for you. 
Their thin, padded layer absorbs friction into the material, which reduces painful blisters and helps you KEEP your hard-earned calluses.
WODies possess some characteristics making them the perfect gloves for many CrossFitters.
The palm features JerkFit's GripRidge technology, a textured finish that absorbs more chalk than other wraps, enabling you to get a better feel throughout your workouts. 
They are available in  4 various palm sizes to fit the needs of any size hand. You will love WODies, even if you hate wearing gloves or grips. (Here is a link on Amazon)
3- Fit Active Ventilated Weight Lifting Workout Gloves
The ventilated weight lifting workout gloves are a solid choice if you are looking for more protection than what regular grips or wraps offer, and yet you are hesitant to the idea of wearing full gloves.
Made of neoprene and silicone impregnated, these gloves fully protect your palm and the lower half of your palms. They are also resistant to water. 
In addition, they come in 5 different sizes. With their built-in wrist wraps, they also protect your hands from forming calluses. Here is a link to check them out on Amazon.
4- Cross Training Gloves by ProFitness
These Cross Training Gloves by ProFitness are among the best CrossFit gloves, made from breathable nylon with a double-reinforced palm. 
In addition, they are excellent chalk absorbents, improving your grip and feel for the bar. They also protect you from blisters and calluses along the lower part of your fingers. Their extra-wide wrist straps provide ample support to protect you from sprains throughout your heaviest lifts.
Here's a link to check cross-training gloves by ProFitness out on Amazon
5- Mechanix Gloves
There will not be a complete list of the best Crossfit gloves without these mechanics gloves. They are a little bit slippery when dry, but as you get a sweat on them, they work well and will save your hands.
These classic Crossfit gloves are excellent for everyday use, including Crossfit and running in cold weather. Their intended use is military, law enforcement, and shooting sports, making them highly resistant, durable, and excellent protection for your fingers from blisters and tears. 
In addition, they are also machine washable, so you can toss them in the wash whenever they smell less than fresh.
If you are going to use gloves, you can use mechanics gloves; they are cheap. Your main goal is to keep your hands from ripping.
The only drawbacks are that they wear out fast and will make your hands sweat if you use them in the summer.
6- Fox Racing Men's Dirtpaw Motocross Glove
Fox racing men's Dirtpaw motocross gloves are 100% leather. In addition, they are touch screen compatible. 
Conclusion 
Whether they are CrossFit gloves or cycling gloves, wearing gloves gives cushion support to your palm and saves it from rashes, redness, and it becomes rough.
Even though wearing Crossfit gloves is a personal choice, if you are a beginner, I would recommend you wear gloves because when you start lifting weight, your palm isn't used to the harsh grip of the bar or dumbbell, which will make your palm burn.
However, picking the right pair of gloves for CrossFit can be pretty confusing, particularly with all the various brands, materials, and features available on the market. 
My top recommendations are: 
Bear KompleX 3 Hole CrossFit Hand Grips offer impressive durability, protection, and flexibility. And Mechanix gloves are perfect for all types of workouts, including Crossfit and even running during wintertime.