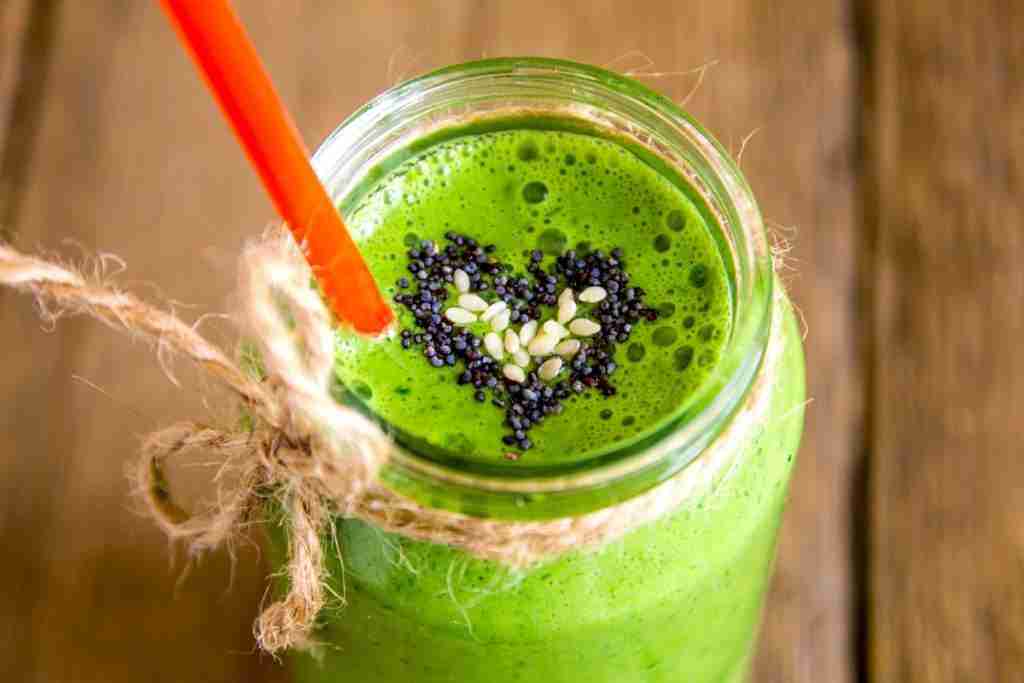 Have you ever wondered how to make a smoothie thicker? You are not the only one. I get asked this question all the time.
Smoothies are a great way to start your day. If you use the proper ingredients, they can be tasty, filling, and filled with nutrition, especially the green smoothie, once you add a handful of spinach or kale.
Above all, they are pretty easy to make once you know how to make a smoothie thicker. Keep reading to learn how to make the softest, creamiest smoothie with all-natural ingredients.
Smoothies are also an excellent way to eat your 32 foods that burn belly fat fast – based on science. 
First, let's start by answering the question of what is a green smoothie
What Is a Green Smoothie?
A green smoothie is a very healthy, delicious, and delightful drink. It is a healthy shake made by mixing raw leafy vegetables with fruits and water.
Green smoothies tend to be heavier in veggies than regular smoothies, even though they often contain a little fruit for sweetness.
They are usually blends of various pureed green leafy vegetables such as spinach, kale, collard greens, swiss chard, celery, parsley, or broccoli, with the remainder of the ingredients being mostly or entirely fruit along with juices, dairy products, almond milk, coconut milk, soy milk, herbs, and spices.
According to Harvard experts, green smoothies can also easily incorporate leafy greens or other veggies into your diet.
Do you want to try green smoothies but don't know where to begin? This simple guide will take you from zero to delicious smoothies in just 5 minutes.
Now, let us explore how to make a green smoothie.
How To Make a Green Smoothie?
Smoothies are a great way to get your healthy dose of fruits and veggies into your diet quickly. The beautiful thing about smoothies is that you can adjust them to whatever you are craving or available in your kitchen.
The essential ingredients in all delicious green smoothies are:
Leafy Greens: Kale and spinach are perfect for beginners because they easily mix in a blender.
Creamy Ingredient: banana, coconut milk, yogurt, or even tofu will help make the texture smooth and creamy.
Fruit: Fruit gives natural flavor and sweetness to your smoothies. Choose any fruits you like (apples, mango, berries, stone fruit, kiwi, pineapple). You can choose fresh or frozen.
Optional Enhancers: These are optional, but they enhance your smoothie. If you can, try to add seeds (like flax or chia), nutritional supplements ( such as protein powder), or flavors ( such as spices or honey).
Apple Cider Vinegar: 24 Disadvantages and Advantages of Apple Cider Vinegar – Backed by Science
How To Make a Green Smoothie
Step 1: The secret to making a thicker smoothie is to blend the liquids and greens together first and then add the rest of your ingredients afterward.  This step helps prevent chunky kale or spinach from floating around your smoothie.
Step 2: Creating a creamy base. Try to use cut and frozen bananas. If you are not a big fan of bananas, try adding plain yogurt.

Pro advice: Peel and cut your bananas into eight pieces, then freeze, so when you need to pull the bananas out of the freezer for the smoothie, you will know precisely how many pieces equals one banana.
Step 3: Add fruits that you like to give a fruity flavor to your smoothie. You can add any fruit you would like here and try to rotate from time to time. Let's say you choose mango on Monday and pineapple on Tuesday.
Step 4: Optional. You can add optional superfoods such as flax or chia seeds. You can add optional flavor enhancers such as cocoa powder, cinnamon, protein powder, or vanilla extract.
Step 3: Taste your smoothie. You can decide whether your green smoothie needs a sweetener at this step. You can taste it to see if it is too thick or needs extra ingredients.
Some standard adjustments people make are adding honey or dates to elevate the taste, adding lemon to lower the bitterness of some greens, or even adding cinnamon to give the green smoothie a warm flavor.
Now, let us explore tips on how to make a  smoothie thicker.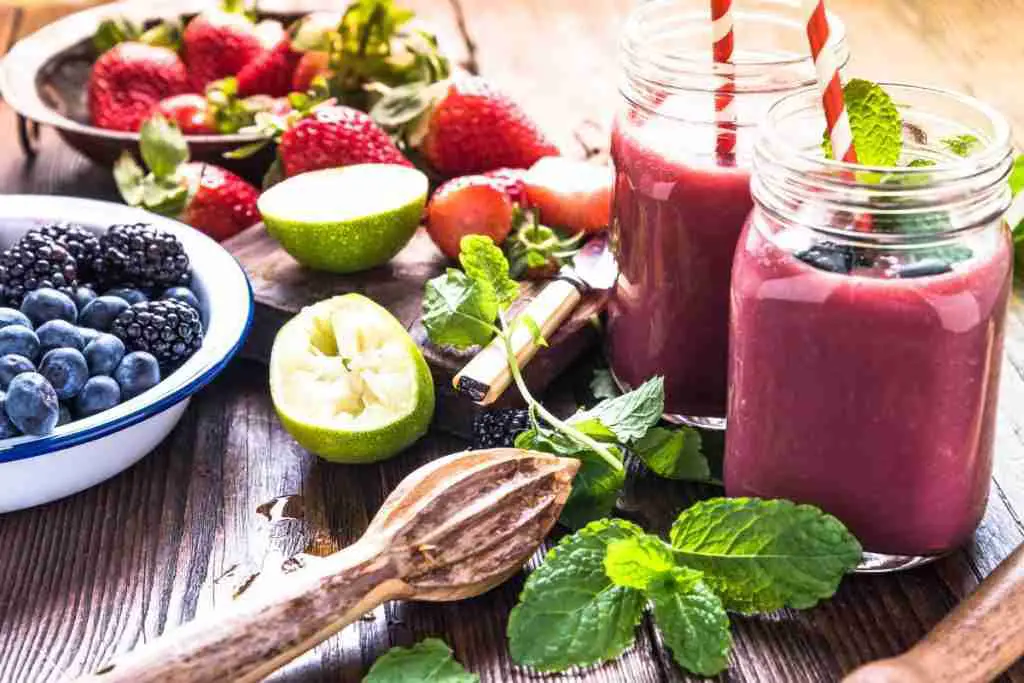 Simple and Easy Tips On How to Make a Smoothie Thicker
These tips will help you make a thick smoothie bowl. Want to make a creamy and healthy smoothie that will keep you full?
1- Use a  high-quality blender
A high-quality blender will help you make a thick smoothie. If you add ice to make thick smoothies, your mixer must be powerful enough not to heat up.
Most smoothie lovers swear by magic bullet smoothies because they are tried and tested. Also, Ninja blenders and Vitamix are among the most powerful blenders on the market.
These Magic Bullets are known for the ease with which they churn through tough skins, seeds, and frozen fruit.
2- Add Soaked Nuts
Adding Soaked Nuts is a great way to thicken a smoothie without adding calories. Nuts can also help you boost your metabolism.
Check out the 27 things you can do right now to increase your metabolism, according to science.
Put almonds, pecans, cashews, macadamia, and walnuts nuts in a bowl, fill it with water and soak overnight. The next morning, wash them and toss them in your smoothie.
Mostly, nuts include healthy fats that are perfect for thickening up smoothies. Nuts such as almonds, hazelnuts, Brazilian nuts, and cashews are excellent for making creamy and thick smoothies.
Generally, nuts are excellent sources of fat, fiber, and protein.
A group of researchers showed that people who consume nuts live longer than those who don't. The study concluded eating nuts may help you prevent numerous chronic diseases.
3- Seed And Nut Butter
Nut and seed butter like almond, cashew, macadamia, hemp, sunflower, and hazelnut butter is perfect for getting plant-based protein and thickening your smoothie simultaneously.
Seed and nut butter are other great ways to increase your consumption of nuts and seeds.
4- Chia Seeds
Chia seeds help make your smoothies healthier and add a bit of texture.  Adding in a tablespoon of chia seeds to your smoothie will add healthy fats that also make your smoothie thicker.
In addition to their ability to thicken, chia seeds also give you a burst of energy thanks to their omega-3 fatty acids, fiber, and protein contents.
Adding chia seeds can be particularly helpful if you are not having your smoothie immediately. After just a few minutes, the chia will absorb liquid from the smoothie, and the seeds will expand, forming a thicker texture.
When coupled with a real food-based diet and a healthy lifestyle, chia seeds may help support weight loss. A study observed that chia seeds may promote weight loss and reduce the risk of obesity.
5- Quinoa
Quinoa is more suited to people who are lactose-intolerant and are looking for ways to thicken their smoothies without dairy.
Add ¾ to 1 cup of cooked quinoa to your blender with fruits and veggies.
Quinoa is full of fiber and protein and has a low glycemic index. These properties have all been associated with weight loss and improved health.
6- Flax seeds
Flax seeds are high in fiber and omega – 3 and extremely useful when used as a smoothie thickener.
Pro tips: You can soak the seed for about 10-15 minutes or rinse them with cold water before use.
Flax seeds have numerous health benefits.
A study observed that flax seeds are effective in the risk reduction and treatment of breast cancer.
7- Oats
You can also toss in a scoop of oats. A handful of oats will make your smoothie creamier and thicker while adding extra protein and fiber.  Adding oats is also perfect for an extra boost of fiber every morning.
To make breakfast smoothies more fibrous, you can also use other grains, such as rolled oats and quinoa. Add chia seeds, nuts, and oats to make your smoothies thicker, dreamier, and creamier.
Oats may help you lose weight by making you feel more full.
8- Frozen Ingredients: Fruits and Vegetables
Another question people often ask is, does ice make smoothies thicker? The answer is Yes, ice makes smoothies thicker. Any crushed ice will help thicken up your smoothies.
You can also make a thick smoothie with frozen fruit.
One of the easiest and most efficient ways to make smoothies thicker is to use frozen fruit or vegetables.
Freeze all fruit or juice in ice trays, or make fluid cubes to add to your smoothie.
When looking to thicken smoothies, choosing fruits with low sugar, high pectin, and high fiber is best. Fiber and pectin help you make your smoothies thicker.
Another benefit of frozen fruits and vegetables, they tend to be cheaper, and you can find fruits that might not be in season. They are both budget-friendly and delicious.
Pro tip: You can make your smoothie extra thick by preparing the frozen ingredients first and adding your fluid right at the end.
Examples of Frozen Fruits And Vegetables:
Bananas: Frozen bananas thicken smoothies and add extra fibrous content (1)
Pears: They are high in natural sugar and high in pectin. Pears are excellent smoothie thickeners.
Berries: They are low in sugar and help you add a burst of extra flavor. Many smoothie lovers swear by berries because of their health benefits.
Avocados: Avocados help you add an ideal creaminess and fiber to your smoothie.
Other nutritious options involve frozen peas, carrots, mangos, kiwis, broccoli, and whatever frozen fruits and vegetables you enjoy.
9- Freeze Some Of Your Fluid
For instance, if you usually use orange juice in your smoothies, then freeze it in an ice cube tray and add these to your smoothies to make them thicker.
You can also use frozen milk cubes to make your smoothie thicker. Instead of using dairy milk directly from the container, you can fill ice trays with milk and leave it in the freezer. Once the milk is frozen, you can use the milk ice cubes to make thick and creamy smoothies.
If you like coconut water, you can freeze some in an ice cube tray to help you make your smoothies creamiest, thickest, and most exotic.
I recommend using low-sugar frozen fruits such as cucumber, berries,  zucchini, pumpkin, melons, bananas, mangoes, and papaya. Whichever fruit you choose, frozen fruit helps to increase the thick, frosty factor in your smoothies. Try to use about one cup per recipe.
10- Add Vegetable Purees
Adding vegetable puree is an excellent way to make your smoothie thicker because it will increase your drink's softness and creaminess.
Some examples of vegetable purees include Pumpkin, butternut squash, and avocado.
You can use sweet potato, pumpkin, butternut squash, and carrot purée to make your smoothie soft and dense.
11- Use a Minimum Amount Of Fluid
The higher the quality of your blender, the less liquid you will need to use.
If you have a regular blender, you might need a bit more fluid; however, try only to use a little at a time while blending. If you add too much, your smoothie will be runny.
I start with a tiny bit and add an extra splash only if my smoothie is too thick to blend.
12- Add Fruit Jams
If you prefer fruit juice-based smoothies, try using fruit jams instead of fruit juice or sugar.
You can use jams to sweeten and thicken your smoothie.
A spoonful of strawberry, blackberry, raspberry, pineapple, peach, or apricot jam should make your smoothie thick.
Pro tip: It will be great to make a homemade jam, so you have full control over its sweetness.
13- Add Dairy
You can add dairy products such as cottage cheese to make deliciously thick smoothies.
Cottage cheese enhances the smoothie's calcium content and makes it creamy and healthy.
Alternatively, you can add yogurt to your smoothie to make it a thicker and healthy drink.
14- Add Sweet Potato
Adding a cooked sweet potato to your mixer is a fantastic way to thicken your smoothie. Sweet potato offers many health benefits, is naturally sweet, and will bring a soft texture to your drink.
Sweet potatoes are also known to be a superfood. They help boost the immune system, are a powerful source of vitamins and minerals, and fresh color to your morning drink.
Sweet potatoes contain beta-carotene and anthocyanins, antioxidants that may help prevent vision loss and promote eye health.
15- Add Silken Tofu
Adding silken tofu is an excellent way to make your smoothie thick and add protein. Silken tofu is also perfect for you if you enjoy plant-based protein that is entirely vegan, dairy-free, and gluten-free.
Since tofu is a complete protein, you will also get all of your essential amino acids without adding protein powder.
Silken tofu is soft, creamy, dense, and excellent for a plant-based thick smoothie.
16- Avocado
Besides being a source of healthy fats, adding avocado will give your smoothie a creamy and dreamy texture.
Avocado is one of the most popular foods among health-conscious individuals. People usually referred to Avocado as a superfood, which is not surprising given its health properties.
17- Coconut Meat
Adding coconut flesh is an excellent way to thicken your smoothie.
You can buy frozen coconut flesh from the grocery store or scoop it from green coconuts, whichever option is available.
Besides, coconut has proven health benefits.
Coconut meat is full of fat and calories while moderate in carbs and protein. It is also rich in several essential minerals.
18- Gluten-Free Flours
Add gluten-free flours such as chickpea, coconut, rice, almond, tapioca, or amaranth flour to add creaminess, fiber, and plant-based protein to your smoothie.
Trying to add one tablespoon of any gluten-free flour is sufficient.
Here is a list of the 14 best gluten-free flours that you add to your smoothie to make it creamier, thicker, and dreamier:
Almond Flour
Buckwheat Flour
Sorghum Flour
Amaranth Flour
Teff Flour
Arrowroot Flour
Brown Rice Flour
Oat Flour
Corn Flour
Chickpea Flour
Coconut Flour
Tapioca Flour
Cassava Flour
And Tigernut Flour
19- Psyllium Husk
Psyllium husk is an excellent source of soluble fiber, and it is perfect for thickening your smoothie because it absorbs water.
A study published by Cambridge University Press in August 2010 reveals that at least six weeks of daily psyllium intake is an efficient way for obese or overweight people to lower their cholesterol.
20- Protein Power
Protein powders are powdered protein from plants (rice, soybeans, peas, potatoes, or hemp), eggs, or milk (casein or whey protein).
The powders may contain other ingredients such as added sugars, vitamins, artificial flavoring, thickeners, and minerals.
You can add 1 or 2 protein powders to your smoothie. Try non-dairy, plant-based protein powder.
Watch the video below on how to make a thick strawberry smoothie.
Wrapping Up
Try the tips above, and you will soon become an expert, thick smoothie maker. You can change the base ingredient, get creative, and enjoy deliciously creamy smoothies.
How do you like your smoothies? Thick or Thin? What are your tips for thickening a smoothie?
Please comment below and share with us your tricks on how to make a smoothie thicker.