Krav Maga is a form of self-defense that was developed in Israel. It is based on natural reflexes and simple techniques that can be learned quickly. This makes it an ideal form of self-defense for people who are not physically fit or experienced in martial arts.
Krav Maga is also popular because it is effective against larger, stronger opponents. However, there are some drawbacks to this type of self-defense. So what are the pros and cons of Krav Maga?
Keep reading to find out all the pros and cons of Krav Maga and help you decide if this form of self-defense is for you.
See also: The 16 Most Effective Martial Arts To Stay In Shape.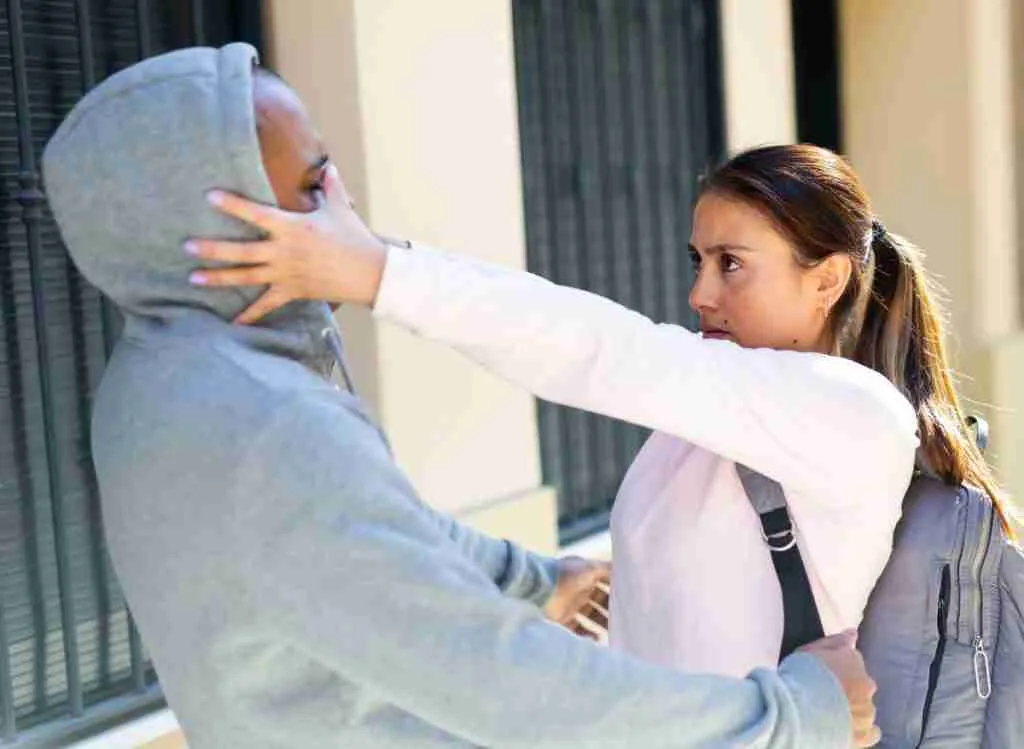 Pros Of Krav Maga
Like anything in life, practicing Krav Maga has both advantages and disadvantages. Let's first discuss the pros of Krav Maga.
1- Krav Maga Techniques Are Easy To Learn
The techniques of Krav Maga are designed to be easy to learn and remember in high-stress situations. This is achieved through natural body movements, making the techniques more intuitive and easier to apply in a real-world setting.
Krav Maga is also highly effective. The techniques have been battle-tested in real-world situations and proven to be successful in a wide range of self-defense scenarios.
The Krav Maga system is also flexible and can be adapted to fit the unique needs of each individual. This makes Krav Maga ideal for those who want to tailor their training to their own specific needs and goals.
Krav Maga is also a very practical system of self-defense. It does not rely on fancy expensive equipment and can be used in various situations.
Krav Maga is perfect for those people who want to be prepared for any potential self-defense situation.

altinify.com
2- Krav Maga Can Help You Get In The Best Shape of Your Life
One of the main reasons people decide to start learning Krav Maga is to get in shape. Unlike other martial arts, Krav Maga focuses on practical self-defense techniques used in real-world situations.
As a result, you will constantly move and use your body weight to generate power, making it an excellent workout. And, many people who train in Krav Maga find that they better shape and improve their overall health and well-being.
Another benefit of Krav Maga is that it can help you build confidence. When you know how to defend yourself, you will feel more confident in all aspects of your life. This increased confidence can lead to better performance at work, in social situations, and in relationships.
3- Krav Maga Encompasses Techniques From Other Martial Art Forms 
Krav Maga is not just about punches and kicks. Krav Maga combines effective techniques from other martial art forms such as wrestling, boxing, Karate, Muay Thai, Jiu-Jitsu, and Judo.
This makes it a more comprehensive self-defense system that can be used in various situations. Krav Maga is also constantly evolving, which means that it is always up-to-date with the latest self-defense techniques.
See also: Krav Maga Or Karate: Which One Is Harder To Learn?
4- Anyone Can Learn Krav Maga
It doesn't matter if you're a man or woman, big or small, young or old, Krav Maga is designed to be learned by anyone and everyone.
Krav Maga is a simple and effective system that can be used by people of all shapes, sizes, and abilities. So if you are looking for a self-defense technique to learn, you should consider joining Krav Maga classes.
5- Krav Maga Teaches Self Defense Skills Quickly
Krav Maga is an effective and powerful self-defense system that can be learned quickly. Krav Maga's techniques are designed to be intuitive and easy to remember, so they can be used in a high-stress situation when thinking may not be possible.
Krav Maga is also a relatively simple system, so students are not required to have a lot of previous self-defense experience to learn it.
6- Krav Maga Is Adaptable To Any Situation
Krav Maga can be an effective self-defense system for a wide range of real-world situations.
The techniques can be applied to almost any type of attack, whether the attacker is armed or unarmed, and can be used in various settings, such as on the street, in a car, or in an office.
7- Krav Maga Is Effective Against Multiple Attackers
Krav Maga discipline is designed to be effective against multiple attackers, which is often a situation that people find themselves in when they are attacked.
The Krav Maga techniques can effectively take down multiple attackers, even when they are armed with weapons.
8- Krav Maga Teaches Awareness and Prevention
Krav Maga not only teaches students how to defend themselves but also how to be aware of their surroundings and avoid dangerous situations.
In addition, Krav Maga's training includes a comprehensive curriculum on self-defense, which covers topics such as risk awareness, threat detection, and self-defense strategies.
9- Krav Maga Improves Fitness and Conditioning
Krav Maga is a physically demanding activity that can help improve students' fitness and conditioning. This self-defense technique includes a variety of exercises that help build strength, endurance, and flexibility.
Krav Maga is an excellent way to stay active, burn calories and lose Wei weight. One hour of Krav Maga practice can help burn about 616 calories, according to a study.
See also: Krav Maga And Muay Thai: Which One Is Best For Self Defense?
Cons of Krav Maga
Now that you are familiar with the pros of practicing Krav Maga, let's explore the cons of Krav Maga.
10- Krav Maga Does No Teach Attacking Techniques
Krav Maga only teaches how to defend yourself and not how to attack your opponent. This can be a significant disadvantage if you are ever in a situation where you need to fight back.
In addition, the training can be intense and physically demanding, which may not be suitable for everyone. Also, Krav Maga is not an easy skill to learn, and it takes a significant amount of time and commitment to become proficient in it.
The moves taught in Krav Maga are designed to disable or injure your attacker, which could potentially lead to legal trouble if you ever use them in self-defense outside of a Krav Maga class.
11- There Is No Standardized Training
Krav Maga is a specialized martial arts self-defense system developed by the Israeli military. It is not a martial art like karate or taekwondo, nor is it a traditional sport like wrestling or boxing.
Because any governing body does not regulate Krav Maga, there is no standardization in training. This can lead to inconsistent techniques and tactics taught from one instructor to the next.
12- Krav Maga Training Can Costly
Krav Maga training can be expensive, as it often requires specialized equipment and facilities. In addition, because Krav Maga is a relatively new discipline, few certified instructors can make finding a reputable school difficult.
Krav Maga is a physically demanding activity, and practitioners need to be in good shape to execute the techniques properly. Krav Maga's discipline also requires a great deal of mental focus and concentration, which some may find difficult during a hectic training session.
13- Krav Maga Might Not Be Effective In Real Life Situation
Krav Maga training can sometimes be difficult to implement in the real world. This is because the real world is more unpredictable and quicker than training.
Krav Maga also has a lot of techniques that need to be memorized and practiced, which can be difficult to do in a short amount of time. In addition, some people may find Krav Maga to be too aggressive or violent for their taste.
14- Practicing Krav Maga May Only Prepare You For Selected Types Of Attack
Even though Krav Maga is a very effective system, it may only prepare you for selected types of attacks. For instance, if you're only taught how to defend against a front choke, you may be caught off guard if someone attacks you from behind.
Therefore, it is important to supplement your Krav Maga training with other self-defense techniques to prepare for any situation fully.
See also: Karate And Taekwondo: Which One Is More Effective In Real Life?
Final Thoughts
Krav Maga is a powerful self-defense system that has many advantages. However, it is important to be aware of its limitations and cons before deciding if it is the right choice for you.
Krav Maga can be an expensive and physically demanding commitment, but it may be worth it for those looking for comprehensive self-defense training. It is important to supplement Krav Maga's training with other self-defense techniques to be prepared for any situation.