Pull-ups have been one of the best and most beneficial workouts of all time that shows real results. They require minimum equipment and are an excellent addition to your workout routine. There are different kinds of pull-ups targeting different muscles.
To get the best results out of your workouts, it is good to learn more about the different types of pull-Ups and muscles they work.
In addition, resistance training, including pull-ups, can be an effective way to reduce low back pain, according to a study.
Read on to find out about all the 15 best variations of pull up, including the different muscles they target.
See also: Will Doing Pull-Ups Everyday Hurt You? (Here's the answer!)
Types Of Pull Ups Variations
1- Close-grip pull up
The close-grip helps target the muscles in your arms it requires you to use your arms' strength. You have to take your body up and down keeping a close grip on the bar and your body should be stable.
Start with as much as you can do and slowly increase the number of times you can do this pull-up variation. 
Muscles Worked With Close-grip
Arms muscles
Rhomboids
Serratus posterior superior
Lower and middle trapezius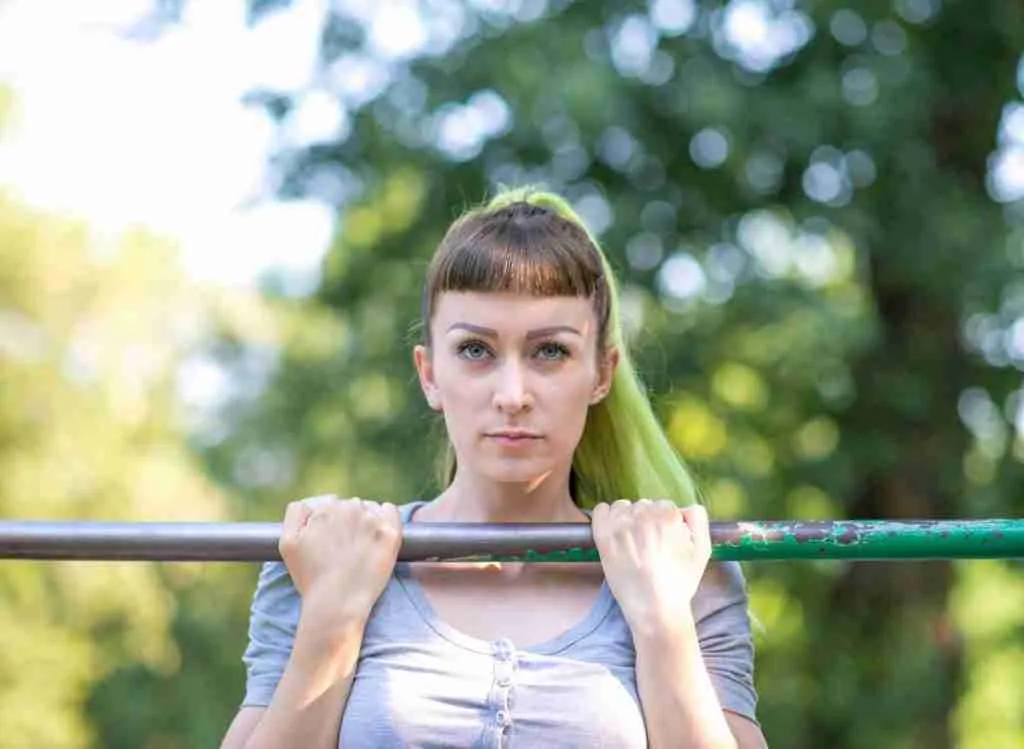 2- Wide-grip pull up
A wide-grip pull-up targets your back muscles more than close-grip pull-ups because the distance you need to pull up your body to the bar is shorter.
As you will be holding the bar by a great distance between both of your palms. When you will be forcing your body upwards using the strength of your back muscles.
Keep in mind that wide-grip pull-up is a demanding workout. You might get cramps and feel pain for many days. By practicing it you will be able to build your muscles. 
Muscles Worked By Wide-grip:
The outer portion of your back muscles
Latissimus dorsi
Trapezius
Thoracic erector spinae
Rhomboids
Infraspinatus
Teres minor
External oblique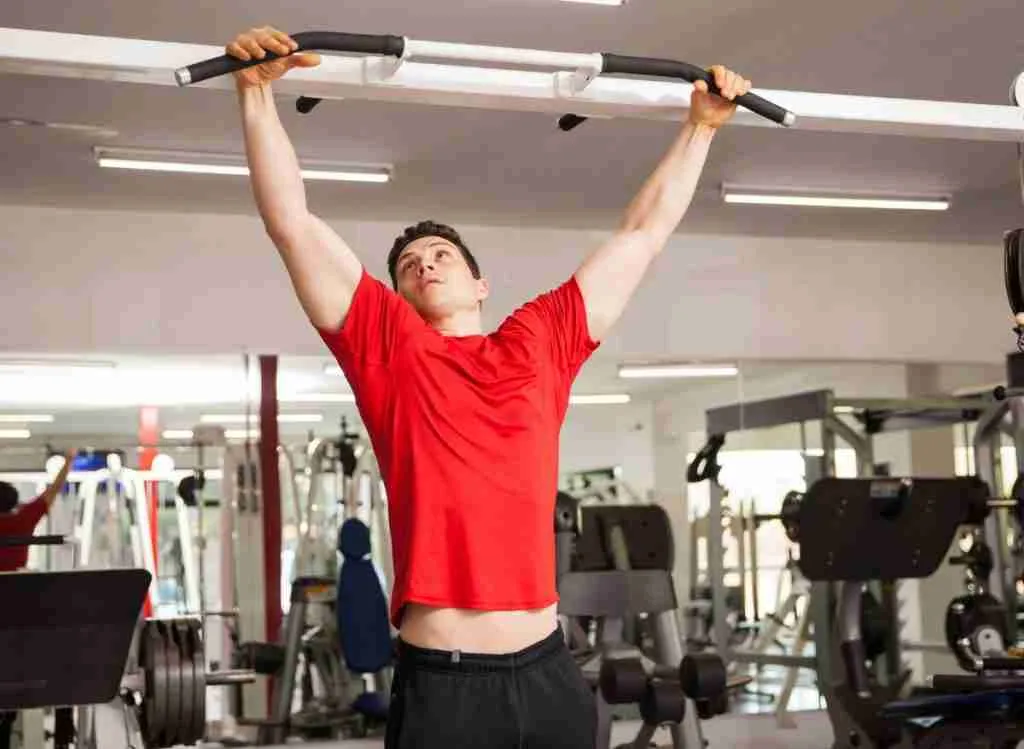 3- Kipping pull up
Kipping uses momentum to help propel your body. Fully understanding the technique is a little challenging because it is a highly technical movement.
Even though it is ferocious, Kipping pull-up is an excellent anaerobic workout for your upper body. kipping pullups are an excellent way to develop wide shoulders, strong lats, and a powerful grip.
Muscles Worked:
Wide shoulders
Strong lats
And grip
Abdominals
Latissimus dorsi
Arms
Legs
And upper back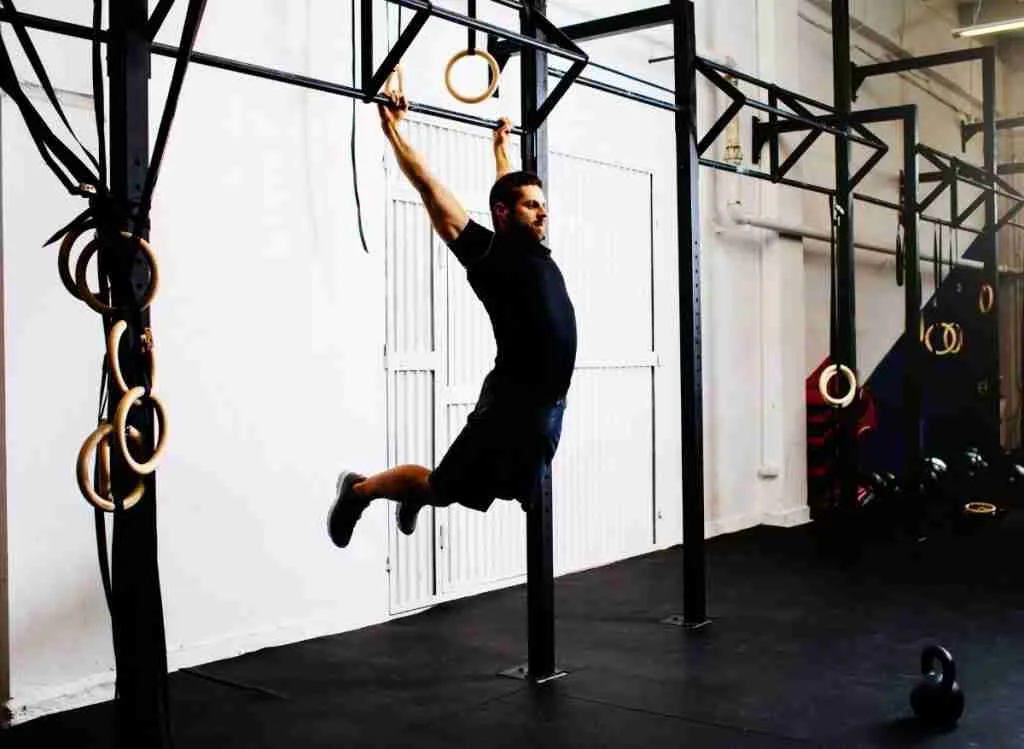 4- Muscle up
Like kipping pull-up, muscle-up uses momentum to help propel your body up. Muscle up is a type challenging of pull-up in which you will try to take your chest up the bar or close to it so that your arms are straight.
Even if you can do ten pullups, you may not be able to do one muscle up because it requires substantial pulling strength. It requires practice and concentration and helps can build significant strength. 
Muscles Worked:
Latissimus dorsi (back muscles)
Trapezius (upper back muscles)
Deltoids (shoulders muscles)
Pectorals (chest muscles)
Biceps and triceps (arms muscles)
5- Towel grip pull up
Towel grip is popular for targeting front and back muscles, but the best part is that it also helps in building your grip strength. In addition, towel grip pull-ups are among the most effective routines for developing grip strength.
Not everyone has the same grip and to get the best out of your training. You need to focus on keeping your hands from slipping off the towel while you complete each rep.
Muscles Worked:
Arms muscles
Back muscles
Core muscles 
Forearm muscles
Core muscles
Latissimus dorsi
See also: 6 Reasons Why Are Pull-Ups Actually Harder Than Chin-Ups (Not what you expect!)
6- L-sit pull up
L-sit is a challenging pull-up variation that is usually performed by gymnasts. It can completely knock your abs because of the great strength it requires. You have to use the bar and raise your legs so they are parallel to the ground.
Now, keeping your balance you have to pull up above your neck. In this position, you are balancing your upper body but also focusing on the balance of your legs. It is a hardcore exercise and will bring you great results. Beginners should not try this as it can damage their muscles.
Muscles Worked:
Core strength
Hamstring
Hip flexibility
Legs muscles
Abdominals
Hip flexors
Obliques
And transverse abdominals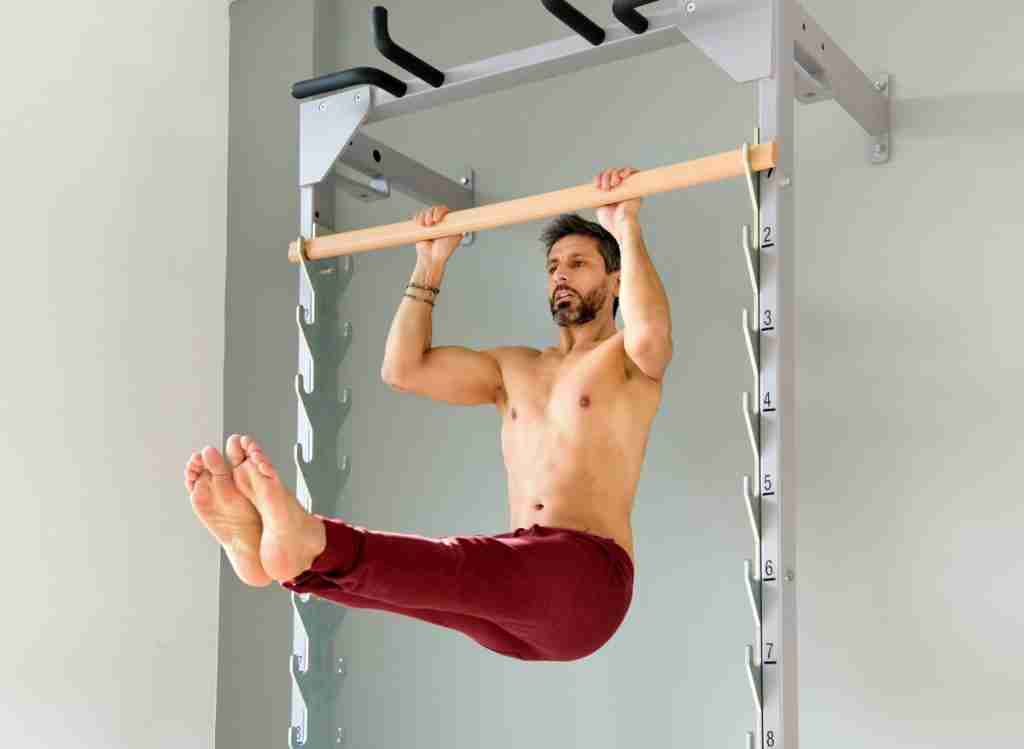 7- Single-arm pull up
By the name, you can easily guess how challenging. It is one of the hardest variations because your whole weight is pulled up to the bar by just one arm.
The balance in this training is very important as it can easily be messed up. People try this for months to figure out how to maintain the balance. If you have a trainer in the gym, they can also help you out with it. 
Muscles Worked:
Arms muscles
Core muscles
Lats
Shoulders muscles
Biceps
Triceps
And dorsal muscles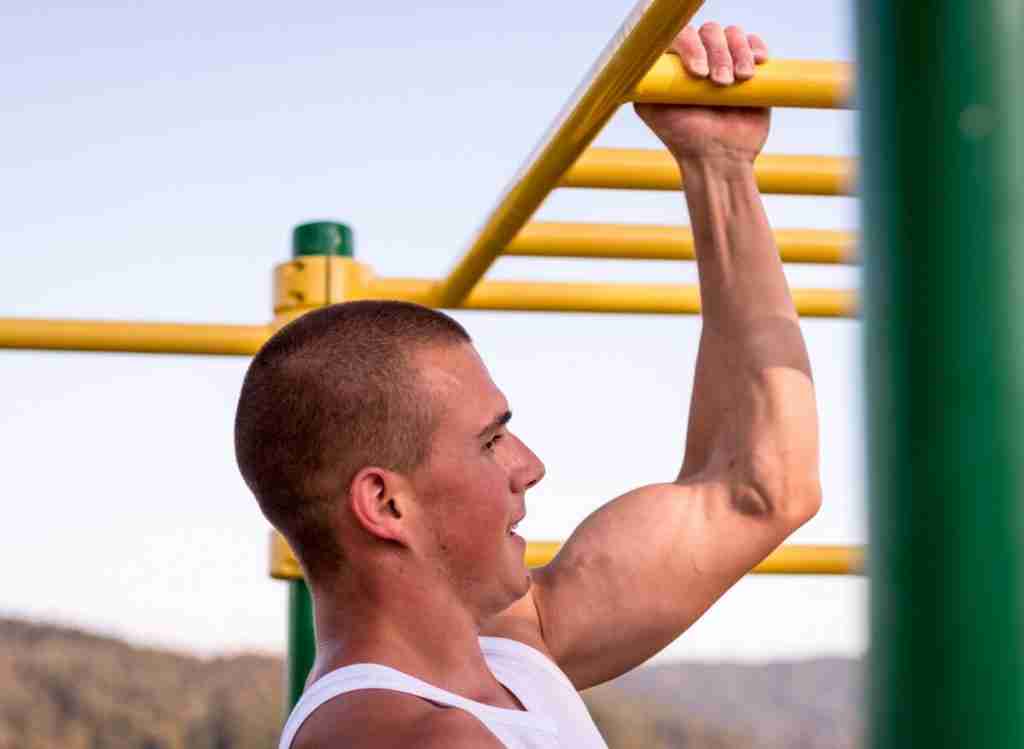 8- Archer pull up
In the archer, you are doing more than just a pull-up. You will be pulling yourself up the bar that it reaches to your chest.
Now, you will take your right arm a little close to the left hand. And, move the left hand further on the bar. Then repeat the same for the left hand.
You will be making a position like an archer when you are doing it. This exercise will help you achieve great results, especially in weight loss. 
Muscles Worked:
Upper body muscles
Lower body muscles
Arms muscles
Lats 
Biceps
Forearms
Middle back
Shoulders 
And Trapezius
9- Behind the neck
Behind the neck is one of my favorite types of pull-ups. Be careful when performing behind the neck as it can cause muscle damage or burn if you are not familiar with the proper form.
When doing behind the neck, your head is pushed forward toward the bar. Make sure that you have a trainer around you so he/she can save you from any sort of difficulty of muscle damage. 
Muscles Worked:
Trapezius
Rhomboids 
Biceps
Pectoralis
And abs
10- Around the world pull up
The around-the-world pull-up is a more advanced variation of the classic pull-up. In addition, around-the-world pull-up places more load on your muscles than a traditional pull-up, which generally distributes your weight evenly.
Muscles Worked:
Strengthens the muscles of your lats (latissimus dorsi),
Develop the biceps, upper back muscles, core, and grip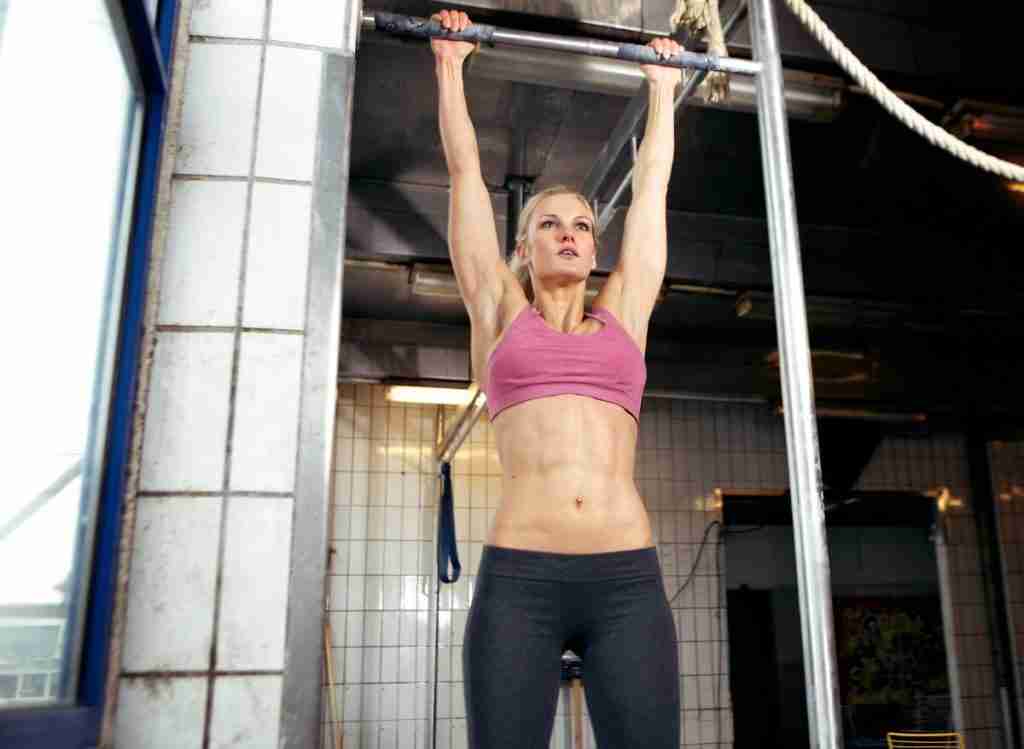 11- Weighted pull ups
There are many ways you can add weight to pull-ups, including a weighted vest, a weight belt with a chain, a kettlebell, or holding a dumbbell.
In addition, adding weight to your pull-ups will turn it into a great upper body strength exercise while activating different muscle fibers, which leads to greater mass and strength.
See also: Does Chin Ups Really Increase Height? (Let's find out!)
Muscles Worked:
Latissimus dorsi.
Biceps, brachioradialis, brachialis.
Deltoids.
External obliques.
Trapezius.
Teres major.
Thoracic spinae erectors.
Rhomboids.
 12- Plyo pull-ups
Plyometric (AKA Plyo) pull-ups generally require a significant amount of pulling strength to get your body up to the bar.
In addition, they require sufficient force to release your hands at the top of the move, then catch the bar on your way down.
Muscles Worked: 
Latissimus dorsi
Biceps
Forearms muscles
Middle back muscles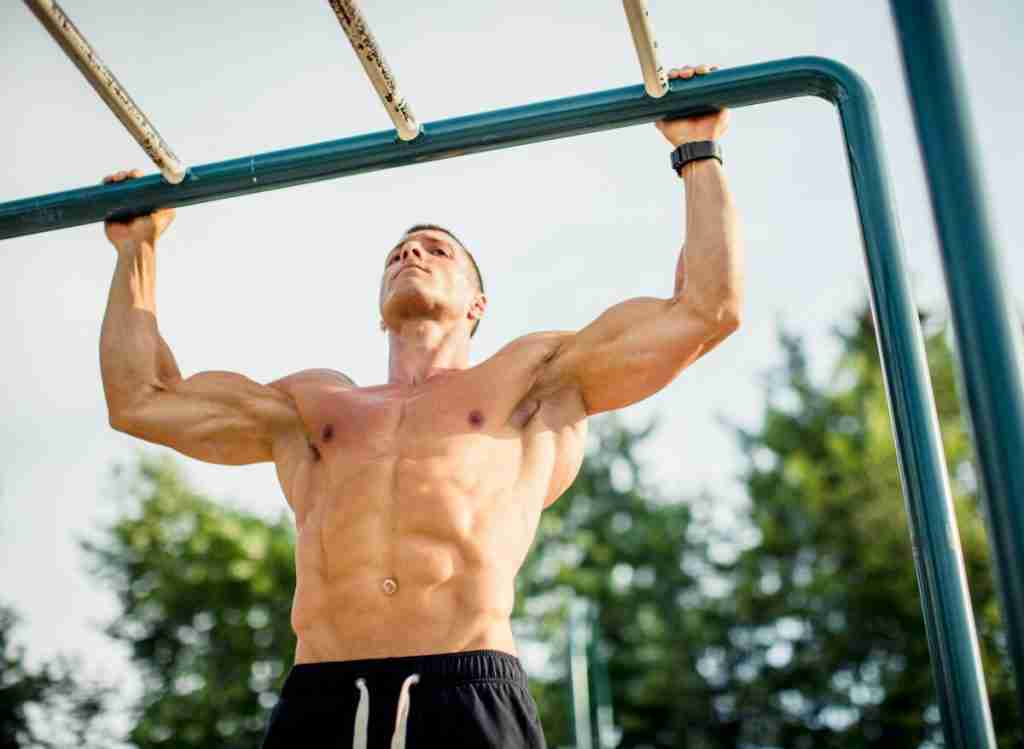 13- Mixed grip pull ups
Mixed grip pull-ups are the ultimate two-in-one muscle builder for toning your biceps and developing a V-shaped back. 
The mixed-grip pull-up improves back, arm, and grip strength.
Muscles Worked: 
Back muscles 
Biceps
Deltoids.
Forearms muscles 
14- Eccentric pull ups
Eccentric pull-up targets the growth of muscles through exercising resistance by slowing down the negative, downward phase of your pull-up.
 Muscles Worked: 
Latissimus dorsi.
Trapezius.
Deltoids.
Pectoral
Biceps
Forearms
And triceps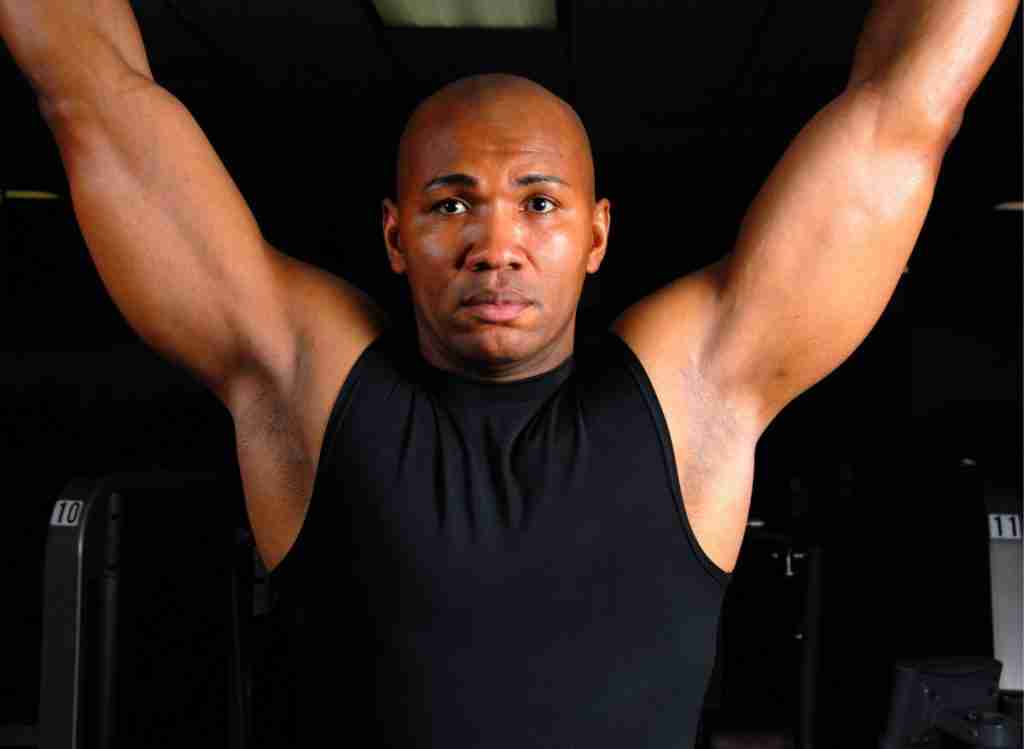 15-  Tandem grip
Tandem grip (AKA cliff-hanger) pull-ups require both your hands to maintain a neutral grip on the bar. 
Tandem grip improves athleticism and coordination. Your lats will be the primary muscles recruited during the motion. 
Muscles Worked:
Latissimus dorsi
Infraspinatus
Trapezius
Thoracic erector spinae
Which Type of Pull Up Is Best?
Weighted pull-ups, archer pull-ups, L-sit pull-ups, wide-grip pull-ups, and eccentric pull-ups are among the best pull-ups because they require a lot of strength.
However, I don't recommend you practice only one pull-up type; for better results and stay healthy, aim to mix different pull-ups.
Incorporating all the 15 variations of pull-ups in your workouts will develop your whole body muscles, and by working different muscles, you will also lower your risk of injuries.
For instance, a wide-grip pull-up will work the outer portion of your back better than a close-grip pull-up, which targets the middle of your back.
Are Pullups or Chinups better?
Both pull-up and chin-up require you to pull your body up from a suspended horizontal bar. The pull-up is more difficult because you use a pronated (overhand) grip with your palms facing away, while with chin-up, you use a supinated (underhand) grip with your palms facing you.
Chin-ups are highly recommended to all the fitness freaks out there (I love doing chin-ups). Whether you are experienced or a beginner, they are easy to do. But you must be dedicated and willing to practice regularly. For the biceps, triceps, and chest, chin-ups are considerably the best option out there. 
What Type of Pull-Up Is Easiest?
Chin up comes under the pull-up variation and it is popular for its amazing results. It is easy to perform and even beginners can start with it. Other than that Hammer grip (neutral) is also a great choice if you want to start this training with an easy variation.
See also: How Many Push-Ups Per Day Should You Do To See Results? (This much!)
Which Pull up Is Best For The Back?
Wide-grip pull-ups and mixed grip pull-ups are great for back muscles. Keep in mind that all the different types of pull-ups help target back muscles and reduce back pain. According to a study, resistance training, including pull-ups, can be a helpful and effective way to reduce low back pain.
When doing pull-ups, your main goal is to build your muscles. It is not only the front but the back as well. Having a strong and lean body is the goal of almost every man and woman out there. You cannot deny how great you will look if you can achieve this goal.
See also: 40 Best Fat Burning Exercises Proven To Work ( According to Science)
Wrapping Up
Including pull-ups in your exercise routine is an excellent way to keep yourself active and meet your weekly physical activity requirements.
If you are new to doing pull-ups, start slow and gradually increase the number of pull-ups you perform.
If you are experienced in doing pull-ups, ensure you perform different types of pull-ups to target different muscles, increase your performance, and avoid hitting a plateau.
Mort importantly, clean up your diet and combine your pull-ups with other low-impact workouts, including swimming, yoga, and biking.