Whether you are a beginner looking to get started or an advanced runner trying to make your run stand out, you sometimes need a little extra push. 
Now, apps allow you to track your run, coach, keep you safe,  motivate you with music, and much more. These best running apps for beginners will help you exercise anywhere and anytime. With step-by-step instructions, motivations, and training plans, you can keep up with your fitness and running at home or traveling.
Downloading a running app is the first step toward a healthier lifestyle. This list of running apps for beginners or seasoned pros will help you find the tools you need to get the most out of your runs and turn your device ( phone, tablet, desktop) into a personal trainer.
Best Running Apps For Beginners
Without further ado, here are my top picks for the best running apps for beginners.
1- Couch-To-5K
Couch to 5K is among the best running apps for absolute beginners. It was created by a new runner, Josh Clark, who wanted to support his 50-something mother to get off the couch and begin running.
Perfect for: beginners to running, it will help you slowly develop running habits.
2- Pacer
Pacer is actually a pedometer app, but it also acts as a running app. It lets you track all your activities throughout the day and track particular activities like outdoor walking, hiking, running, and biking on a clean interface.
You can upgrade to the premium version and access 12-week fitness plans and guided audio and video exercises. Also, you can sync it to MyFitnessPal and the Apple Health App and form groups with friends and family to hold one another accountable.
Perfect for: Beginning a frequent running habit.
Free or premium version | IOS | ANDROID |
3- 5K Runner
5K Runner is a little similar to Zombies, Run! The app has a voice guiding you on when to run and when to walk.
There are no zombies involved, but on the flip side – it is among the free-running apps for beginners, and it has no ads, too! The idea behind this is 8 Weeks, 3 Times a week, 30 Minutes a day.
Perfect for: Beginner Guided Run
4- C25K 5K Trainer
C25K 5K Trainer aims to help you train for the 5K. It begins with a mix of running and walking, progressively building up your strength and stamina.
It is the perfect running app for beginners and offers the most accessible program to get you from couch potatoes to 5K distance runners in 8 weeks.
Perfect for:  Slowly easing into becoming a regular runner.
5- MapMyRun by Under Armour
MapMyRun is a running app for beginners that allows users to map, record, and share their workout routes and exercises.
MapMyRun is a great app suitable for anyone trying to adopt a healthier lifestyle.  Whether you are a beginner runner eager to track how many steps you take every day or an experienced distance runner looking to shave down your mile time. It is for running and cycling, and you can also log gym workouts.
Perfect for: Discovering new routes to run.
6- Strava
Strava is a running app for beginners and a social-fitness network, essentially tracking cycling and running exercises using GPS data.
Strava provides a free service with no advertising in its mobile application and a monthly subscription plan called Strava Summit (previously Strava Premium).
Perfect for: Keeping track of your runs and rides with a sound social element.
7- Zwift
Zwift is a turbo trainer game that lets you link your turbo trainer to your device (computer, iPad, iPhone, or Apple TV) and ride with other cyclists in a virtual environment. It aims to make riding fun and lighten some of the boredom linked with indoor riding.
You log in, sync your avatar to your iPad/computer/devices and then ride or run around courses surrounded by other virtual athletes from all over the globe doing the same thing.
Perfect for: Giving you the feeling of running outside while on the treadmill.
8- Runcoach
This running app for beginners is excellent for those needing a structured running regimen. Runcoach features training programs to help you reach your goals, whether it is running a 5K or half marathon.
This app creates a training plan for your race, so you must lace up your sneakers and start running.
This app offers a Race Improvement Calculator and an online adjustable training system to help you maximize your training. On average, runners and walkers who run, exercise, or walk with Runcoach improve their race finish times by 7%.
Perfect for: Developing a customized training plan that suits you.
9- iSmoothRun
This best-running app for beginners provides unique customization for your rides regarding intervals and audio cues. The high-grade GPS tracking makes it a favorite among serious runners.
The iSmoothRun app helps run/walk and interval workouts, sync with a category of devices, track shoe mileage and send exercise data to different training logs.
Perfect for: Exercising with various tracking services.
$4.99 | IOS |
10- Runkeeper
Runkeeper is a running app from Asics; it is easy to use and has audio cues to motivate beginners. It also has training plans if you need a goal to work towards when you are beginning.
But it also has many advanced features for experienced runners and a premium membership option to unlock even more statistics and running programs.
Perfect for: Tracking your pace, distance, calories burned, time, and more.
11- RunGo
RunGo is a running app for beginners that tracks your run stats like time, pace, distance, elevation, and estimated finish time.
This app helps you discover the best routes in the world with turn-by-turn voice navigation. You can also create your route, choose one of the 400,000 routes or verified routes worldwide, and follow a voice-guided tour, including each time there is a turn or a cool landmark or an encouraging reminder that you are halfway there.
Perfect for: Discovering the best routes in the world.
Best Running Apps For Beginners For Fat Burn And Fitness
If you are looking for more than running, I also have something for you; here are the perfect running apps for running and fitness.
12- Weight Loss Running
Weight Loss Running is a running app for beginners designed primarily for weight loss. The best combination of workouts and nutrition is the key to successful weight loss.
With this app, you will get a plan of running exercises and meal plans to reach your weight loss goals.
Perfect for: planning your running exercises and meal.
13- Pumatrac
Pumatrac is among the best running apps for beginners that aims to help you enhance your running prowess through new ideas.
This app lets you leave your phone at home and go for a run with your Apple Watch. You can access your Spotify and Apple Music playlists and stations.
Pumatrac aims to make running easier by easily tracking heart rate, distance, pace, elevation, and calories consumed.
Perfect for: Planning your workouts and getting results.
14- Endomondo
Endomondo is not the typical running app for beginners, but it is a  free app and website that makes fitness fun and encourages you to stay motivated and lead a healthier life.
It allows you to track your fitness and health statistics with a mobile application and website.
Perfect for: Tracking your workouts, walks, and runs using GPS.
15- Sports Tracker
Sports Tracker is a great fitness app for running, cycling, walking, hiking, mountain biking, skiing, or other sports exercises that power your passion.
With this variety of running apps for beginners, you can track your training utilizing powerful GPS and maps, analyze everything from calories consumed to average speed and altitude, and control your progress as you achieve your fitness goals.
Sports Tracker is also a social sports-tracking app that lets you share your exercise progress and photos with friends and followers, keeping you motivated to stay on track with your exercise.
Perfect for: Sharing your exercise progress and photos with friends and followers.
16- Running by Daily Burn
Running by Daily Burn is an excellent running app for beginners for Runners who want a coach.
This app offers in-your-ear coaching for runners of every fitness level. You can set your desired time, or choose from tempo, distance, interval, outdoor, beginner, treadmill, and fun runs.
Perfect for: People who want a structured exercise program to follow. 
 17- MyFitnessPal
MyFitnessPal is best for you if you are looking to use running to incinerate some calories and lose weight. This app will help you achieve your goals.
You can plan your fitness and weight loss progress and connect with family and friends on the app to keep each other accountable and maintain motivation.
Perfect for : Keeping you accountable by tracking calories burned and your weekly workouts. 
18- Peloton — At Home Fitness
With Peloton's at-home fitness app, you do not need to spend hundreds of dollars on a pricey Peloton bike to enjoy Peloton's workout classes. It is free to download.
If you sign up for Peloton's monthly subscription ($12.99), you can use the app to guide you on both your outdoor and indoor treadmill runs.
Peloton Digital's running instructors coach you through your miles and offer the perfect playlists for pushing you forward. It also provides the motivation and ability to pre-load on-demand classes and subscribe to training programs.
Perfect for: Guided at-home workout with a personal trainer in your house whenever you want it.
Free | IOS | ANDROID | AMAZON APPSTORE |
Best Running Apps For Motivation
If, like most runners, you find motivating yourself to run consistently challenging, here are the best running apps for motivation.
19- Nike+ Run Club
Nike+ Run Club is excellent for anyone looking to shed weight, get fit,  or exercise via running. It is available for both iPhone and Android devices.
Nike+ Run Club is one of the best running apps for beginners. It offers several features, such as GPS tracking details of your run, and you can also find customized plans that fit your goals and adapt to your progress.
This app also offers personalized coaching plans for your goals and motivation from Nike athletes, and you can also share your runs easily with your friends.
Perfect for : Beginner as well as elite runners.
20- Runtastic
Are you looking to keep your body fit and burn calories? If yes,  Runtastic Running, Jogging, and Walking Tracker app may be your best choice.
This running apps for beginners offer loads of amazing features, including track workouts in real-time with built-in GPS, annual running goal, shoe tracking, Live tracking & cheering, and power song. You can also track all your fitness plans and exercise, like distance, time, speed, calories, elevation, etc.
Perfect for : Staying focused during your runs.
21- Charity Miles
Charity Miles is a running, dancing, cycling, and walking tracker app that tracks how many miles you have covered throughout your fitness routine.
Extra bonus: Charity Miles earns money for charity on your behalf for each mile you move.
With Charity Miles, you help earn money for a selected charity every mile you run, walks, dance, or move. This app lets you log all types of movement, from running and walking to dancing and biking.
Perfect for : Support a cause while reaching your fitness goals.
22- Zombies, Run!
Zombies, Run! is excellent if you want to make your run and workouts adventurous. It blends a running app and a game.
Put your headphones on, and participate in a post-apocalyptic world where you fulfill the role of a "runner" – In other words, you will hunt for supplies and outrun hoards of zombies in the process.
Zombies, Run! is among the best running apps for beginners that keep you motivated and moving on your run!
Perfect for : Turning your run into an adventure.
Best Running Apps For Music Lovers
If you are like, you like to listen to music while these running apps are for you!
23- RockMyRun
RockMyRun is a running app for beginners that provides running and workout music in the form of DJ mixes.
The RockMyRun app includes thousands of mixes or "stations" produced by its professional DJs intended to increase fun and performance during your workout. DJs who have contributed mixes for the app include David Guetta, Zedd, Steve Aoki, Major Lazer, and Afrojack.
All of the music on the app can be personalized based on your steps per minute, heart rate, or ideal cadence, allowing you to always listen to the right music at the right time and at the right tempo.
Perfect for : Personalized playlist based on your steps per minute.
24- Fit Radio
Fit radio might be a good fit for you if you like to listen to music while running. Fit Radio offers curated playlists based on your mile pace and heart rate (beats per minute), and you can select from more genres.
You will eventually become familiar with the diverse DJs and can choose tempo-based playlists that can help you keep pace.
Perfect for : Curated playlists based on both your mile pace and heart rate.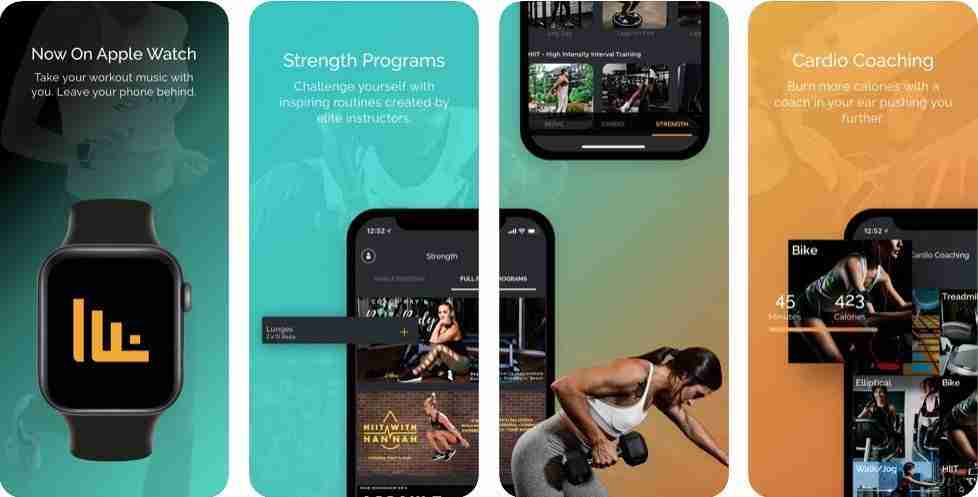 25- Weav Run
The app helps you to track your steps in real time and then utilizes technology to speed up or slow down tracks to match your steps-per-minute beat.
You can also pick the playlist's BPM ahead of time, so you can run to keep up with the tempo instead of adjusting the songs.
Each song loaded in Weav Run falls between 100 and 240 BPM to help boost your speed.
You can use Weav Run and your run-tracking app of choices, such as MapMyRun, Nike Run Club, Adidas Running, Runkeeper, and Strava, to log your miles as you take advantage of Weav Run's playlists.
Perfect for : Discovering music to match your stride.
Free | $0.99/month | IOS |
26- Spotify
Spotify is a great music app that offers digital music, podcast, and video streaming service that gives you access to millions of songs and other content from top artists worldwide.
Basic functionalities such as playing music are free, but you can also decide to upgrade to Spotify Premium.
With this app, you can search the world of Spotify to discover what else people are running to, jamming to, or working out. You can also pair it with most devices once you have the app.
Perfect for : Creating playlists for your workouts and runs.
Free or monthly subscription | IOS | ANDROID |
27- Apple Music
Apple has become the leader in the portable music scene since the iPod's invention, so it is no surprise that it offers more than 50 million songs. Imagine the unlimited library of songs to keep you motivated while running.
Perfect for : Bringing your preferred songs with you during your run.
Plans start at $4.99/month | IOS | ANDROID |
28- Amazon Music Unlimited and Amazon Prime Music
If you are a Prime member, you can access more than 2 million songs or decide to upgrade to Amazon Music Unlimited, which includes tens of millions of songs for hours of advertisement-free music.
Perfect for : If you are already Prime members and love music.
Prime Music is free with Prime membership, Music Unlimited plans start at $7.99/month | IOS | ANDROID |
29- Apptiv
Apptiv emphasizes a mixture of trainer-led audio exercises, including running programs. It offers training regimens from a 5K to a full marathon. The trainers are excellent, and the playlists are super motivating.
Aaptiv also offers treadmill and strength training classes to help you reach your fitness goals.
Perfect for : Helping to make your treadmill workouts motivating.
Free 7-day trial, $14.99 per month | IOS | ANDROID |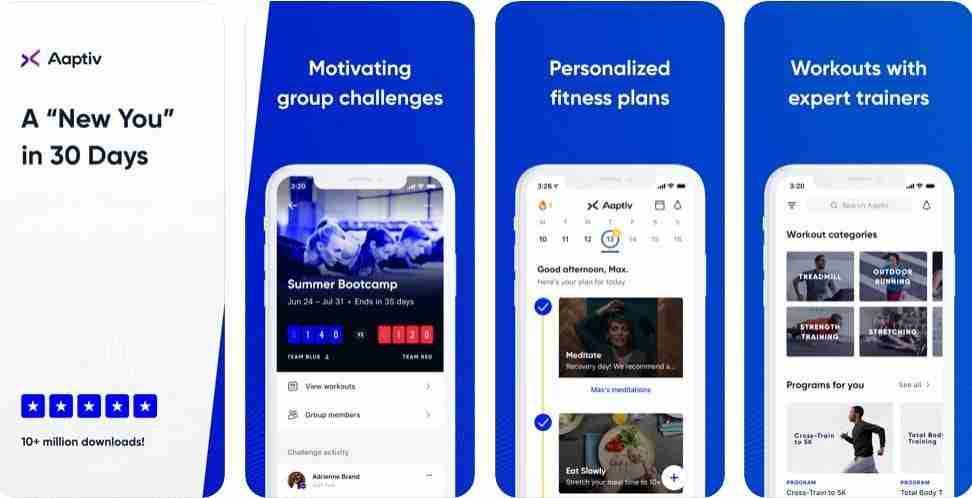 Best Running Apps To Yourself Safe While Running
I know for some runners, safety is crucial, below are the best running apps to yourself safe while running
30- Kitestring
Kitestring is not an app; you do not have to download anything. If you love running alone but worry about your safety, then Kitestring is perfect for you.
After you sign up, text Kitestring to let it know you are headed out and how long you will be gone. Kitestring sends you a text checking in on you after that amount of time has passed.
If you do not text back or check in online within a specified time interval (usually the default is 5 minutes), it will send an automated alert to the emergency contact you have listed. How cool is that?
Perfect for : People who love running alone but worry about your safety.
Free or $3 per month | Sign Up |
31- ROAD ID
If you are concerned about safety while on your run, ROAD ID offers a variety of characteristics to give you some peace of mind; for instance, it provides several alert notifications and emergency contact features that you can customize. It is also better known for its emergency identification bracelets.
Additionally, the ROAD ID app lets your friends and family track you while you are out for a run. It can mainly come in handy if you are on a new route or running a long distance yourself. It also offers.
Perfect for : Automatically receiving help in the event of an accident.
32- Footpath Route Planner
This running app is best for beginners who are planning new routes and want to manage distance, elevation, and other factors before starting.
You just need to use your finger to draw out your preferred route and see if it meets your running goals.
Perfect for : Runners who want to plan new routes and manage distance, and other factors before starting.
Free | IOS |
Best Running Apps For Listening To Podcasts and Audiobooks
Running is an excellent way to stay active while learning and improving mentally and physically. Here are the best running apps for listening to podcasts and audiobooks while running.
33- Audible
With Audible, you can access audiobooks, shows, and podcasts from your preferred writers and personalities with an extensive library of content while running or working out.
Perfect for: Peace of mind and listening to your favorite books and authors.
Plans start at $14.95/month | IOS | ANDROID |
34- Apple Podcasts
You will access millions of podcasts on Apple Podcasts on various topics.  You can explore the latest show trends and the top selections in your favorite categories from the app's home feed.
Perfect for: Learning new skills during your runs and workouts.
Free | IOS |
35- Stitcher
Stitcher offers thousands of free podcasts to download and stream. You can also decide to sign up for Stitcher Premium to access exclusive content, full comedy albums, and ad-free content.
One of the most helpful features is creating your podcast playlists; in other words, you can batch all your favorite comedy, true crime, and sports podcasts into one "playlist."
Perfect for: Selecting and organizing all your preferred shows by category.
36- Google Podcasts
Google Podcasts is comparable to Apple Podcasts, allowing you to listen to your favorite shows. This app also suggests shows that will likely match your tastes.
Perfect for: Finding new podcasts.
How To Choose The Best Running Apps For Beginners?
Most of the running apps for beginners featured here are free; however, a few offer subscriptions to access more advanced features, such as access to coaches, guided workouts, location sharing, and training plans.
Try to take advantage of any trial time and then consider a monthly subscription to see if the app meets your requirements. If you like and enjoy what you see, you can always shift to an annual subscription, which usually reduces your monthly cost.
Decide if any of these extra features are worth the recurring cost or whether you can make do with the free tier. Note that some free of running apps for beginners is ad-supported, so you will have to choose if that is too much of a nuisance.
Remember that different running apps concentrate on different things. So determining the best running apps for beginners for your needs depends heavily on what you want to use the app for:
Are you looking to track your stats?
To map your runs?
Play music that complements your workout.
Or safety?
If you choose an app that maps where you run, check out its privacy policy to see where it is stored and who has access to it.
Wrapping Up
Downloading one of the best running apps for beginners for Android or iOS constitutes the first step toward a healthier lifestyle. It would be best to consider adopting a healthier diet and changing your mindset.
Do you know any other running apps for beginners and elite that help you get in shape? If so, share it with us in the comments.