Wearing closed comfortable shoes is a delight; nevertheless, you can contact the athlete's foot when you sweat, especially in the summer.
Although athletes' foot largely affects athletes because of their high-intensity training and sharing of locker rooms and showers, it is also common among the general population, according to the National Health Service.
Fortunately, with good footwear, you can reduce the risk of getting an athlete's foot and even prevent it. So what are the best shoes for athlete's foot?
Read on to find out everything you need to know about athletes' foot, including its symptoms, how to disinfect shoes from athlete's foot, and the best shoes for athlete's foot.
See also: Does Truly Running Age You? (Here's the truth!)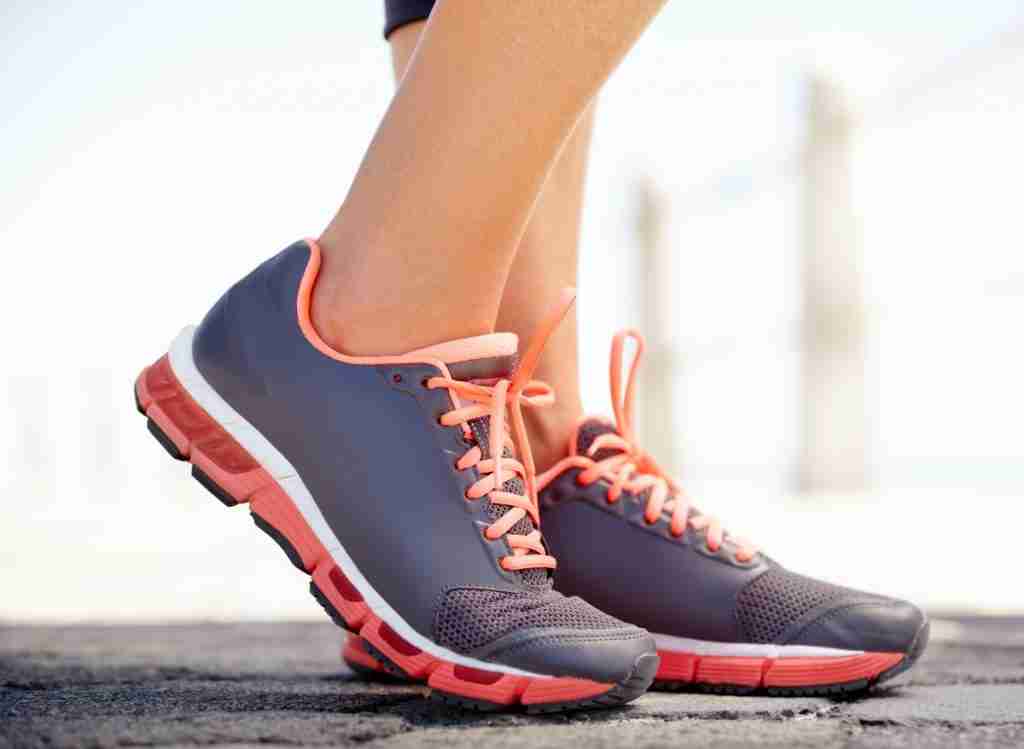 What Is An Athlete's Foot?
Athlete's foot, also scientifically known as tinea pedis is a foot fungal infection characterized by red, flaking, dry skin, according to the National Health Service. It sometimes causes painful peeling and itchiness of the skin. The skin dryness and pealing can lead to cracking, which may contribute to bacterial infection. 
The infection often occurs between the toes, sides of the feet, or soles. The fungus will likely grow in warm or damp environments like locker rooms. When your feet sweat, especially during summer, it creates a perfect breeding ground for the fungus. 
If an athlete's foot is not addressed early, it can spread to your toenails, leading to chronic fungal infection. Fortunately, you can take practical steps to avoid this infection, which is also treatable.
Symptoms of Athlete's Foot
Probably the most common sign that you need an Athlete's foot check-up is feeling itchy with your footwear which worsens when you take off the shoes for the first time. Consider some common symptoms of athlete's foot:
A burning, itchy sensation between your toes
You see cracks or peeling skin between your toes
Scaly skin on the sole or the sides of your feet
Itchy blisters on your hands or feet due to fungus allergic reaction
In extreme cases- thick, discolored toenails seem to pull from the nailbed. 
If you see these symptoms on your feet, immediately recognize the cause and take action to treat it and prevent it from spreading. Sometimes athlete's foot is caused by your socks or shoes. 
Can Athlete's Foot Survive In Shoes?
Athlete's foot might survive In shoes, depending on the type of shoes you wear. If your feet are always covered in dry socks and breathable shoes, you have limited chances of contracting an Athlete's foot.
However, since this fungus thrives in dark and damp places, wearing wet shoes and socks can create an ideal environment for its growth. You want to ensure your shoes and socks are always dry to keep your feet safe.
The problem could arise during summer or after an intensive exercise that causes your feet to sweat. If you continue wearing the shoes after the sweat, the shoes will be wet; thus, creating an ideal condition for the fungal growth. 
See also: Sprinting and Jogging: Which One Is Healthier?
How to Disinfect Shoes From Athlete's Foot?
If you had athlete's foot infection, but you probably have treated it, you still want to be careful by disinfecting your shoes to avoid reinfection. You can carry out this exercise periodically even if you have not contracted the athlete's foot.
Disinfection is more than the usual cleaning since it employs chemicals that kill bacteria, germs, and fungi. You have several methods to disinfect your sneakers, with some working better on delicate shoes than others. 
After removing surface debris at the bottom of your shoes with a dry brush and cleaning with soap, you can use the following disinfection methods:
1- Disinfectant Wipes or Spray
Using disinfectant wipes or spray helps with eliminating viruses. While regular household wipes and antibacterial spray are sufficient for the job, you can also use chemical products manufactured for disinfecting shoes.
Ensure you do not use one wipe for more than one shoe. After wiping or spraying the shoe, let the remain with the product for a while. Spraying the antibacterial chemical in the shoe prevents fungal growth. 
Additionally, you can submerge your shoes in the disinfectant solution as per the manufacturer's recommendation. 
2- Use Hydrogen Peroxide
Are your athletic shoes stained? Use 33% hydrogen peroxide solution to remove the stains and disinfect them. Fortunately, it will not discolor or bleach your shoes. When disinfecting the bottom of your shoes, let it stay there for at least five minutes after spraying before wiping.
What about the upper part of the shoes? You can mix hydrogen peroxide with baking soda in a ratio of 1:2 to form a disinfectant paste. Use the paste to clean the shoes or apply it to the surface. Rinse or allow it to be sundry, and then wipe it off.
3- Use Alcohol
We all know alcohol to be a powerful disinfectant, and you can use it on nubuck, suede, or leather shoes. Though these materials are durable, they are delicate and would need special care. If you have leather sneakers, you can rub alcohol to disinfect them because it is gentler than most chemical products.
Mix alcohol and water in a ratio of 3:1, and use a clean cloth dipped in the mixture to clean the outside and inside of your sneakers.
Leave them to dry for approximately fifteen minutes to remove any lingering moisture. 
4- Use Shoe Sanitizers
One unique disinfectant is the ultraviolet shoe sanitizers that use UVC light to kill bacteria on your shoe's surface. The American Podiatric Medical Association even approves it as a disinfectant (brand name: Sterishoe) that can destroy bacteria that cause warts and athlete's foot. 
You do not need to spray or scrub anything- simply insert one shoe into the other and slide them into the device. After 45 minutes, your shoes are germs-free. However, this method is quite expensive. 
5. Use Vinegar And Baking Soda
Although baking soda and vinegar do not kill all bacteria and viruses, they can slow down their growth and eliminate odors.
You can use them by sprinkling the baking soda inside and outside the shoe and then spraying them with a diluted apple cider vinegar solution. Use a clean cloth to rub your sneakers after 12 hours of resting. 
Best Shoes For Athlete's Foot 
You need appropriate shoes to curb athlete's foot; otherwise, this condition could keep recurring. Consider some of the best shoes for men, women, and children to help you prevent fungal infection. 
1- CUYIOM Shoes For Athlete's Foot
CUYIOM shoes for athlete's foot shoes have rubber soles to enhance comfortability. The upper surface has soft and breathable mesh, ensuring your feet are cool and dry to avoid athlete's foot infection. 
Its insoles are fitted with honeycombs to provide extra cushioning to ensure your feet feel comfortable. Furthermore, the outsole is elastic and soft, ensuring your feet are free, thus minimizing sweating. 
This comfortable working shoe is ideal for sports, gym, training, fitness, mountaineering, running, and outdoor activities. You can easily wear and take these shoes off whenever you feel discomfort. 
2- WXQ Shoes For Athlete's Foot
These neck-shaped running shoes are good for freeing your feet. The knit upper fabric has great breathability and softness, making it ideal for athlete's foot. WXQ shoes for athlete's foot also have a lightweight EVA outsole that reduces the shoes' weight. You will not feel tired and sweaty when wearing this shoe because an excessive burden is lifted off your feet and knees. 
Since the WXQ shoes for athlete's foot fit well on your feet and ankle, they do not need socks, contributing to breathability and sweat reduction. The ankle extension provides additional protection if you accidentally fall. 
WXQ shoes for athlete's foot are also suitable for all seasons due to their one-piece cushioned EVA outsole, which is anti-shock, non-flip, and suitable for running and daily wear. 
3- UUBARIS Shoes For Athlete's Foot
UUBARIS shoes for athlete's foot have a comfortable and durable form insole with good elasticity. The insole is also moisture-wicking, helping keep your feet cool and dry as you walk, even during summer. The shoes are excellent for women's feet, protecting their ankles and feet from potential injuries. 
UUBARIS shoes for athlete's foot' outsole is comfortable and soft. They provide your feet with an adequate buffer to the ground, thus reducing the chances of injuries or blisters. The breathable upper mesh is fashionable and keeps your feet dry and cool. 
These shoes also have air cushion and anti-slip soles with bump texture, giving them stable traction. The cushioning acts as shock absorbers that sustain impacts from sports enthusiasts. 
4- Nautica Shoes For Athlete's Foot (For kids)
Kids also need a timeless shoe design that they can wear for any occasion, outfit, and play without hurting their feet. 
Whether your child is the one who spends lots of time in the library studying or loves to jump all day on the playground, you need to protect your kids' feet from fungal infection from long wear. 
Nautica shoes for athlete's foot are ideal for athlete's foot since it has decent breathability, soft padding, and wear-resistant sole to protect your kid's feet regardless of what they engage in. 
These shoes are also suitable for hiking, climbing, running, and tourism because they are lightweight. Your child will not come home with tired feet and knees since the design is not heavy. 
5- Skechers Shoes For Athlete's Foot
Skechers is another reputable brand that offers high-quality shoes for athlete's foot. Skechers shoes for athlete's foot have excellent breathability and soft padding. They also come with a super lightweight mesh fabric, making them ultra-comfortable and lightweight. 
The Skechers shoes for athlete's foot are also appropriate for outdoor activities, including hiking, walking, climbing, running, and tourism. Because of their lightweight design, you will enjoy summer-long walks with your loved ones.
Final Thoughts
Athlete's foot is a common fungal infection affecting both professional athletes and the general public. However, you can prevent this infection by choosing the right shoes and keeping them dry at all times. 
You can buy more than one pair to ensure durability and reduce the chances of infection. Additionally, you could disinfect your footwear to kill bacteria, viruses, and germs that are likely to cause athlete's foot. 
Suitable shoes for athlete's foot infection are available for adults and children in different colors and designs. Protect your precious feet from any infection by purchasing the right shoes.