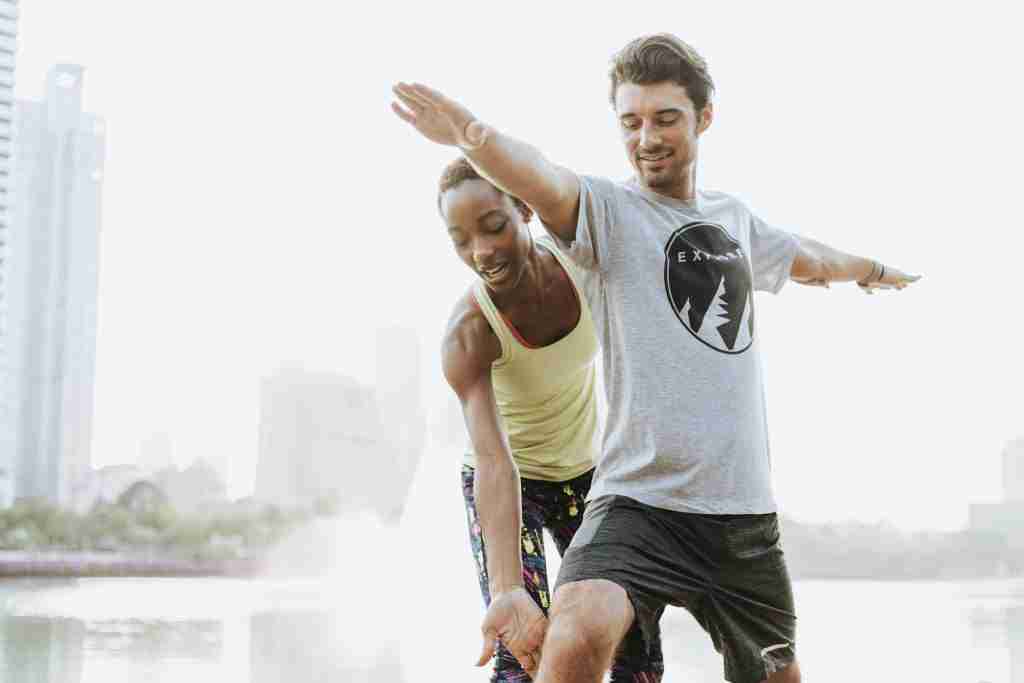 Most of us want to know how to get good at yoga; in his 2008 book titled Outliers, Malcolm Gladwell attempted to answer this question.
He wrote, "ten thousand hours is the magic number of greatness." In other words, it takes 10 000 hours to become an expert at something.
However, yoga is about mindfulness. Being "good" at yoga means being committed to growth, practicing gratitude, looking inside yourself for answers, listening to your breath, practicing kindness and compassion, staying healthy, and doing yoga poses.
When people ask the question of how to get good at yoga, they usually mean flexibility. 
So, How To Get Good at Yoga?
If you practice yoga consistently, at least three times a week for about 30-45 minutes, you should be able to get good at yoga and achieve your balance and flexibility goals in 6 months to a year. Being good at yoga is less about height and weight and more about consistent practice.
Consistency and 100% involvement are fundamental to being good at yoga. Remember, yoga is a way of being.
A 2014 study observed that young adults had better body balance after doing 1-hour hatha yoga sessions three times a week for five months.
Focus on practicing consistently and let perfection come naturally to you. You may need to focus on being present while practicing without pushing or forcing yourself into achieving perfect asanas.
A study supports that yoga is just as healthy for your heart as running or any cardio exercise.
You will be surprised how your practices' regularity will bring you enormously-pleasant results that reflect the body's flexibility and health and overall mental and emotional health. Yoga will also help you break mental barriers.
You need those longer practices to get the best of the mental benefits. Yoga is not only about flexibility and strength but also deep inside. It is about approaching challenges with a calm breath and connecting with your physical body.
A 2012 study found that yoga improved flexibility and posture.
When you start practicing yoga, your goal should be to build a good physical foundation. Three times yoga practice per week is where you will start seeing lots of progress and deeper flexibility and challenging poses become available. You will also get a deeper awareness of your body, a stronger sense of proprioception, and better mental control from the meditative side.
My advice is to practice every day and learn well, so you do not do unhelpful things for a long time.
Focusing on your core and daily interval yoga for 7 months will help you progress on arm balances, intermediate inversions, and flexibility. I know how it always feels to be excited to nail something; however, understanding the journey of getting it right is worth it.
Related articles
The key to getting good at yoga is always to get back on your mat and maintain a mindful practice.
A 2013 study shows that practicing yoga just once a week for six weeks increased spine and hamstring flexibility.
The best thing about being good at yoga is that you will become better at living and finding new loving ways: loving yourself, loving people, loving your children, and even your pets.
A 2013 Research reveals that yoga can reduce inflammation, boost your immune system, and improve symptoms of chronic health diseases such as type 2 diabetes, cardiovascular disease, and cancer.
How Long Does it Take To Become Flexible With Yoga?
As with all things in our life, it all depends. Your age, fitness level, and body structure in general. However, everyone can get more flexible.
Frequent and consistent practice over time will help you improve flexibility.
A 12-week study published in 2015 found that Hatha yoga intervention positively affects cardiorespiratory endurance, muscular strength and endurance, and flexibility.
When you start practicing yoga, you might be unable to get your hands below your knees when bending forward with straight legs.  It may also feel unpleasant and challenging to get through, but if you consistently practice, stretching will feel so good and right and will help you relax.
It does take time, though. Once you gain flexibility, Yoga class becomes a bliss rather than a chore. And you will learn a great deal about my body and what it needs.
I would recommend everybody to get into stretching, for it will make you healthier, feel your best, and get a fair amount of crucial body awareness. Trust me, just be patient and don't rush things; the results will come.
As a beginner to yoga, It may take you about two and a half months to gain a noticeable amount of flexibility. Try to stretch every day, and you'll see a difference. Little progress, but it adds up over time to something very noticeable.
A ten-year study of 741 participants observed that just 12 minutes of yoga per day is enough to notice improvements, at least when it comes to preventing osteoporosis and fortifying bones.
One of the most remarkable things about yoga is that your mindset becomes flexible, and you will realize that you should never compare yourself to what someone else can perform or do. Take your time and enjoy the journey.
You will notice an improvement in your flexibility. Pay attention to areas that need work, such as your hip flexibility. Everything in life takes time, and you will have days when you feel less flexible and days when it just seems too easy.
The more you do yoga, the more you will understand what your whole body needs.
A recent study observed that consistent yoga helps improve your mental health and mood, reducing depression.
Try to be patient with yourself and kind to yourself. Do not envy others. Let go of anything that does not support you, and focus on the small wins along your flexibility journey.
Experienced yoga practitioners will tell you to listen to your body and work with it instead of fighting or trying to control it.
As you age or experience injury or sickness, you might find that some of the poses you could do previously are no longer accessible. However, it does not mean you are getting worse at yoga; it just means your yoga style will need to change as you do.
A wise yoga teacher said, "practice yoga once a week, and it will change your body; practice yoga twice a week; it will change your mind; practice every day and will change your life."
People also usually ask how many times a week I should do yoga to lose weight.
To lose weight with you, aim to practice as often as possible. You can practice more active, intense poses at least three to five times per week for at least one hour.
A 2013 study observed that restorative yoga effectively helped overweight women lose weight, including abdominal fat.
If you are a beginner, try to be kind to yourself, start slowly, and gradually build up your practice to develop your strength and flexibility and prevent injuries.
Start with 25 Minutes Yoga For Weight Loss For Beginners [With Videos], and you will notice a significant change in your body and mind.
Another review of studies from 2013 discovered that yoga is a promising way to promote behavioral change and weight loss by burning calories, strengthening mindfulness, and reducing stress.
Wrapping Up
It is essential to learn how to get good at yoga; however, you do not have to master all the poses to be good at yoga.
To me, being "good at yoga" is about commitment to taking care of my body. After each practice, you will feel alive, stronger, healthier, calmer, and energetic, and this is the purpose of yoga.
Yoga is a process of uniting your body, mind, and breath through physical poses and other practices like meditation, healthy eating, and clean living. If you are becoming a happier, healthier person, you are getting good at yoga.
Besides learning how to get good at yoga, regular yoga practice, a good diet, running, and at-home workouts will lead to a healthy lifestyle, which will profoundly impact your body and mind.