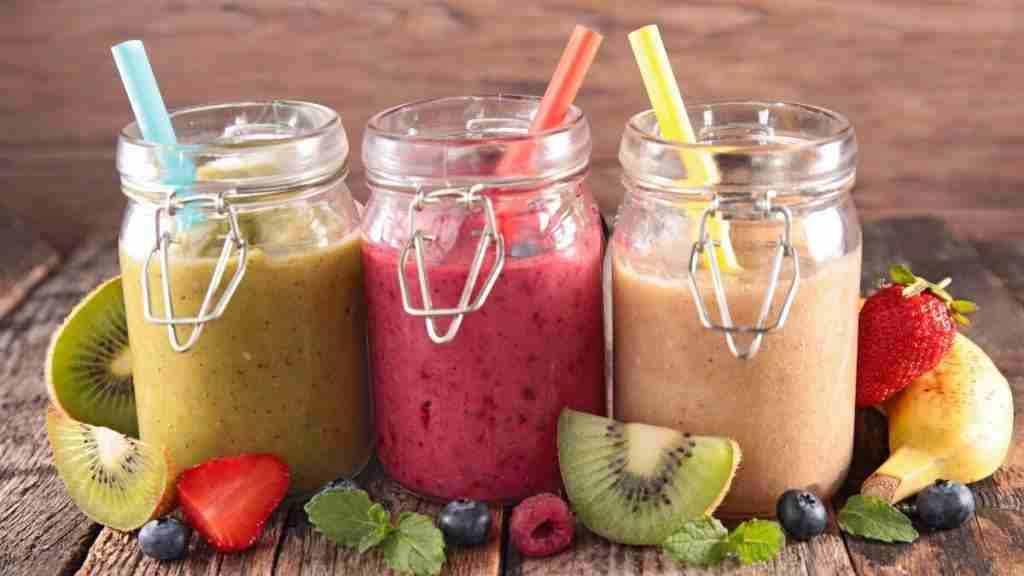 Smoothies have been around since the mid-20th century. However, because of their health benefits, smoothies have recently enjoyed a popularity boost. So, people wonder where did smoothies originate?
Smoothies went through an extensive evolution to become part of our healthy lifestyle. From the invention of the first refrigeration unit in 1915, making it possible to store fruits and vegetables for more extended periods, to the introduction of the Waring Blender in late 1930 and the recent popularity of "green" smoothies in the late 20th century, smoothies have also gone through various recipe changes through their evolution.
Read on to discover a few interesting and fun facts about smoothies, where smoothies originate, and how to make your first smoothie.
See also: 20 Simple and Effective Tips On How to Make a Smoothie Thicker.
What is a Smoothie?
A smoothie is a thick, creamy drink made from pureed raw fruit, vegetables, and sometimes dairy products such as milk, yogurt, ice cream, or cottage cheese, typically using a blender. In other words, a smoothie is a drink prepared from pureed raw fruit or vegetables (sometimes both) using a blender.
Initially, a smoothie means a thick, smooth drink made from fresh fruit pureed with milk, yogurt, or ice cream. Nowadays, smoothies have various recipes and have become an important part of a focused health lifestyle for many people.
Often, a smoothie has a liquid base, such as fruit juice, plant milk, water, yogurt, ice cream, and even cottage cheese.
A smoothie may include other ingredients such as sweeteners (sugar or honey), whey powder, nutritional supplements, or apple cider vinegar depending on people's preferences.
Smoothie Vs. Milkshake
The principal difference between smoothies and milkshake is the ingredients used in their recipe. A milkshake essentially contains milk or dairy products, with some fruits. However, a smoothie contains mainly fruits, vegetables, nuts, seeds, and other dairy products.
Note that both milkshakes and smoothies shared the electric blender; however, smoothies were drinks for health-conscious people.
Smoothies are usually a healthy alternative to milkshakes and should provide you with sufficient nutrients. They are rich in carbs and low in fat because they contain real fruits and vegetables. Unlike smoothies, milkshakes are exceptionally rich in fat and sugar content.
Green Smoothie
Green smoothies started gaining popularity in 2004 in the United States of America and worldwide. Health-conscious people consider green smoothies to be healthier. However, the health benefits of a smoothie depend on its ingredients and proportions. Whenever possible, avoid making your smoothie sugary. 
Individuals who often consume sugary drinks are more likely to face health problems, such as type 2 diabetes, weight gain, obesity, heart disease, kidney diseases, cavities, and a type of arthritis, according to the Centers for Disease Control and Prevention.
Also, keep in mind that fruit juices and smoothies might be a risk to your health mainly because of added sugar they contain, according to health experts. 
You can include large or multiple servings of fruits and vegetables recommended in a healthy diet as a meal replacement with green smoothies.
Typically, a green smoothie contains green vegetables (about half). It mostly includes healthful ingredients such as raw green leafy vegetables( spinach, kale, swiss chard, collard greens, celery, and parsley broccoli).
Eating vegetables in almost any form is far better than not consuming vegetables at all. And smoothies are one of the easiest ways to boost daily fruit intake.
Throwing handfuls of leafy greens or other veggies into a blender mixed with your favorite fruits and healthy snacks can be an easy way to incorporate a wide variety of fresh produce into your diet, according to an expert from the Department of Nutrition at Harvard. 
See also: 31 Smoothie Advantages and Disadvantages You Didn't Know About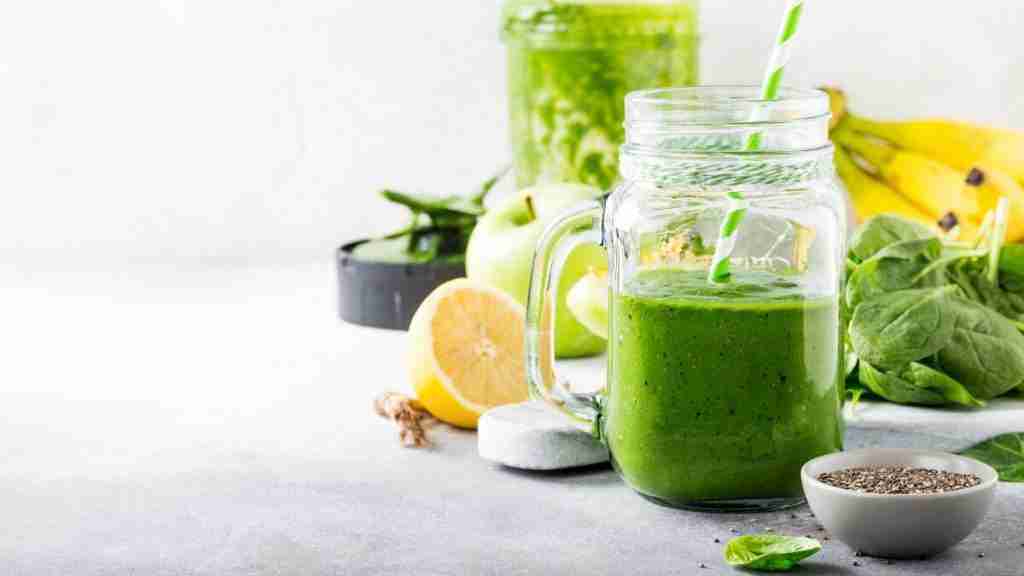 Where Did Smoothies Originate?
Grinding up fruit and adding fruit juice has long been a practice in many ancient cultures, such as in Africa, South America, and Asia. These cultures were the inspiration for some of the first smoothies made in the United States.
The invention of the blender and home refrigerators in the 1900s has been pivotal in introducing smoothies into American culture.
The Introduction of Blenders
The smoothie history is closely tied to the invention of the blender because without this appliance, preparing a smoothie would be nearly impossible.
In the late '30s, the Waring Blender was the first blender to be used to prepare a smoothie.
The recent introduction of the Vita-Mix has revolutionized the world of smoothies. This blender is one of the most powerful blenders designed to crush ingredients like raw vegetables and nuts into a smooth paste, making it perfect for making smoothies ( see the Vita-Mix on Amazon)
In April 1910, Frederick J. Osius founded the Hamilton Beach Manufacturing Company. He hired L.H. Hamilton as the new company's advertising manager and Chester Beach to work as a mechanic. Osius did not care for his name, so he paid Hamilton and Beach $1000 each for the right to use their names instead. The company became well-known for its kitchen appliances.
In 1922, Stephen Poplawski invented the blender, a small electric appliance with a tall container and blades that chop, crush and puree food and beverages. He was the first to put a spinning blade at the bottom of a container. Initially, he used his appliance to make soda fountain drinks.
In 1938, Fred Osius improved on the Poplawski blender and invented the famous Waring Blender, making blenders available for home use.
When Osius told a reporter the mixer would "revolutionize American drinks," he had no idea how accurate his prediction would be.
With both blenders and refrigerators' invention and use, the smoothie began to gain popularity during the '30s, '40s, and '50s.
The impact of the Waring Blendor spread far beyond everyday kitchen use for smoothies. Dr. Jonas Salk used the special Waring Aseptic Dispersal Blendor to prepare culture media for developing the polio vaccine.
Evolution of Smoothie
Slowly, restaurants added smoothies to their menus, and the drink spread around the United States of America and across the world.
In 1973, Steve Kuhnau opened a smoothie shop and juice bar that eventually became the first Smoothie King. Later, Smoothie King smoothie bars spread across the United States of America and made the term "smoothie" a household word.
Kuhnau experimented with smoothie recipes for years, looking for the perfect blend he could enjoy. Thus, the health drink eventually evolved and later included other ingredients, like vegetables, milk, vitamins, yogurt, protein powder, and vitamins and supplements.
Simultaneously, smoothies were becoming available worldwide in more restaurants, juice bars, and health food stores.
Today, smoothies have become a worldwide sensation, and you can enjoy a different type of smoothie no matter where you live. Additionally, many websites and books offer recipes for homemade smoothies.
Types of Smoothies
Today, there is an infinite variety of smoothies; however, generally, smoothies include healthy ingredients, such as vegetables, fruits, seeds, nuts, and dairy products.
Green smoothies: These types of smoothies are rich in minerals and vitamins. They are also the healthiest type of smoothies and contain leafy vegetables, fruits, seeds, nuts, and dairy products.
Weight loss smoothies: Healthy smoothies for weight loss contain the right blend of weight loss foods scientifically proven to decrease body fat, such as healthy fats (nut butter, avocado), fiber ( chia seeds, flaxseeds, hemp seeds, leafy greens, and oats ). They are also low in sugar.
Tropical smoothies: This type of smoothie is a combination of tropical fruits (mango, pineapple, banana, pineapple juice, and coconut milk). You can also add dairy products to create a creamy feel.
See also: 15 Benefits and Disadvantages of Mango That You Should Know
How to Make Smoothies
Fruit smoothies are great for breakfast, a snack, or a side for lunch or supper. They are an easy way to use frozen or overripe bananas or any fruit. A fruit smoothie is a great and healthy snack or complements any meal.
There is no recipe needed to make a smoothie; you just need the following:
Your favorite fruits, a liquid, some ice, and a

blender

. 
You can add fruit to a smoothie, bananas, berries, peaches, or pineapples. You can use fresh, frozen, or even canned fruit. 
If you are using frozen fruit, skip adding ice to the mix. 
For a liquid, using a flavor of yogurt or juice, add your fruits and fluid and blend away. 
You may need to add more fruit, juice, or ice to get the smoothie to your desired consistency. 
Experiment with all kinds of fruit; try yogurt or juice.
See also: 32 Foods That Burn Belly Fat Fast – Based on Science
Final Thoughts
Now that you have found the answer to where did Smoothies originate. Indeed, Smoothie has a long history and has been in our life since 1900. The invention of the blender and the first refrigeration unit contributed to making a smoothie a healthy household beverage.
Make smoothies part of your daily habit to care for your body and mind. There are various advantages to incorporating smoothies into your diet.
No matter your health goal, you will find a smoothie that fits you and help you reach your fitness goals.