Fitness objectives are an essential element of your overall wellness plan. Setting objectives allows you to hold yourself responsible, demonstrate your capabilities, and help you push through difficult times to achieve a longer-lasting change. You might ask why fitness goals are important.
Reaching your fitness goals doesn't happen by accident. It requires work and smart lifestyle choices. Fitness goals are important and essential for good health. Reaching your fitness goals will help you lose weight, get fit and stronger, improve your physical health, and boost your confidence.
This article will answer all your questions regarding the importance of having a fitness plan and successfully setting and achieving your fitness goals.
See also: Best Fitness Trackers To Help You Track Fitness Goals. Check out a video summarizing this article that we have uploaded to our YouTube channel.
What Is The Most Important Goal of Fitness And Exercise?
We all want to look good and healthy from the inside and outside. Weight loss is undoubtedly among the most important goals of fitness and exercise. According to the Centers for Disease Control and Prevention (CDC), regular physical activity is essential for good health. It is particularly important if you are trying to lose or maintain a healthy weight.
However, weight loss should not be the only goal of fitness and exercise. Losing weight, getting fit, being healthier, and getting stronger will improve your physical health and boost your confidence.
1- Goals Make Change Seem More Possible
Many people fear starting their fitness journey or even setting fitness goals because reaching them seems untenable or insurmountable.
By setting small and attainable goals, you will realize that you can reach your fitness goals and change is possible. And it will not seem like you are climbing a mountain, but more like you are moving up one small step after the other. And for example, if you want to lose 50 kg, instead, aim to lose 2 kg per week.
2- Goals Give You direction and Motivate You to Reach Your Goal
Most people find it challenging to keep themselves motivated to reach their fitness goals. In fact, most people give up on their health and fitness goals by January 17th, found Strava. In other words, the average New Year's Resolution lasts only up to January 17th, also known as Quitter's Day.
It is very challenging to keep yourself motivated to pursue your fitness goals. Whether it is a weight loss goal or running your first 5k race without stopping, you will need to find the motivation to keep going even when you don't feel like it.
Goals are similar to road maps; they take you from one point to another. In other words, goals provide:
The direction you need to reach your fitness goals. 
And the motivation to encourage you on your fitness journey. 
See also: How To Successfully Motivate Yourself to Run Regularly.
3- Goals Keep You On Track and Help You Measure Your Progress
This is consistent with the concept of motivation. When you have a set of objectives to achieve, you can see the progress you're making as a result of your efforts. You can measure if you wish to lose weight, for example.
You can see that the effort you are making, and your preparation are paying off, which gives you even more desire to keep going. If you are wondering about what goals you need to set, check out fitness goals examples to get a general idea of some goals.
Maybe this year, you decided to get in better shape, which is a great goal; however, how would you track your progress on getting in shape? 
It would be best if you made your goal specific and measurable. For example, you set a goal to lose 10 pounds in 30 days. 
When you create specific and measurable goals, you can:
Track your progress, 
Plan your workout schedule
Design your diet plan 
Then follow your plan
4- More Efficiency In Your Workout
Every practice session will be more focused and productive than it would be otherwise if you have a clear objective or goals. You can't focus on workouts if you don't have any goals, or if your goals are ambiguous like losing weight or getting stronger.
By focusing on exactly what you want to attain and the changes you need to make to get there, you will make your workouts and runs more productive and efficient.
See also: 18 Veggies That Help Destroy Stomach Fat Faster – Backed By Science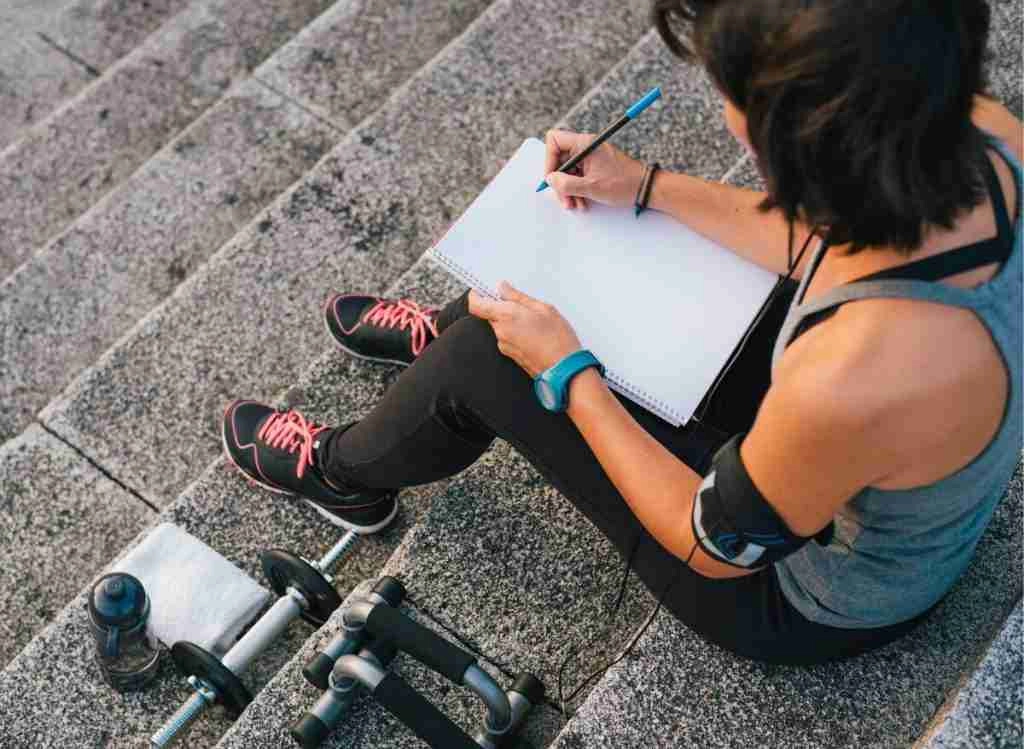 5- Goals Will Boots Your Confidence Level
Setting fitness goals will drastically improve your chance of getting in shape. Starting by creating your fitness goal and writing them down somewhere you can check your progress helps you plan what you need to do to achieve them.
Fitness goals are the best form of staying motivated for exercise. Short-term fitness goals will give you a sense of an immediate target to focus on, while long-term goals give you a big picture to push you to strive for higher achievements.
I recommend you check your fitness goals off your list whenever you reach them and then make new ones.
As a general rule, checking your goals off your list will provide a great sense of satisfaction and extra motivation to start the next goal and boost your confidence.
People who exercise have better mental health, and lower stress levels, depression, and emotional problems, found a study issued in the Lancet.
6- You Won't Succeed Without Setting Fitness Goals
Every run and workout you complete will get you closer to your health and fitness goals. You will lose some weight, grow a bit stronger, and be healthier than you were before you started exercising, but will you achieve all you hoped for? Most likely not.
You must set objectives to succeed and obtain the results you desire from your exercises. 
See also: 18 Amazing Health And Fitness Benefits Of Using An Exercise Bike
Tips For Setting Effective Fitness Goals
Now that you realize the importance of setting realistic fitness goals, you must be thinking about how you accomplish your fitness goals.
Unfortunately, creating goals is more complicated than just expressing what you want: "I want to be slim," "I want to run faster," and "I want to be stronger." Sure, you can make it that vague and easy, but you will be likely to succeed in achieving vague goals. Clear, compelling, and well-thought-out goal-setting is essential to success.
It takes time, though, and preparation to establish goals that aren't doomed to fail. Here are a few tips for setting fitness goals.
Break Your Goals Into Small and Manageable Parts
One of the most common reasons New Year's resolutions fail is that they are too high. Losing about 50 pounds (22.68 kg) before the end of the year is a good health goal, but tackling something so significant is challenging.
If you break down your goals into smaller chunks, you are more likely to achieve them. For example, losing one pound every week or four pounds per month is far more manageable and realistic.
Make Goals Realistic
There is nothing bad with dreaming big, but setting unrealistically high goals sets most people up for failure. You will become irritated and more inclined to stop if your objectives are unattainable.
You will notice that you are progressing toward something greater if you set smaller, more attainable goals, which helps to boost your motivation to achieve more.
Put a Time Limit On Your Goals      
Time constraints are required for goals. You will not have any sense of urgency or need to rush when you don't put any time restrictions. When will you drop 10 pounds if all you want to do is lose weight?
You may spend the rest of your life attempting to reduce weight. Set a major objective with a long deadline, such as a year, and then break it down into smaller goals with narrower deadlines.
Goals Must Be Meaningful To You
You might never achieve your goals if they are not personally important to you. There must be an emotional connection, which is why you must create your objectives.
Therefore, setting goals must be left to the discretion of each individual. See also: 14 Reasons Why Weight Training Is Essential To Help You Reach Weight Loss Goal.
Create SMART Fitness Goals
SMART stands for 
Specific
Measurable
Attainable
Relevant
and Time-bound. 
Using the SMART fitness goals setting is effective in reaching your fitness goals. So instead of setting a goal to "lose weight," create a SMART plan:
Specific: Lose 25 pounds.
Measurable: You can measure your progress by stepping on a scale to see if you are on track.
Attainable: 1.5 to 3 pounds each week is an achievable rate of weight loss.
Relevant: Losing is one step toward better health.
Time-bound: Your timeline for reaching your goal is four months
In addition, setting SMART fitness goals will help you adjust your lifestyle to help you reach your fitness goals. For example, you will eat out less frequently, use controlled portions, start training for your first 5k race, and do strength training to build muscles.  
See also: How Running Can Positively Change Your Life Forever
Examples of Common Fitness Goals
Now, you know the importance of fitness goals and how to go about achieving these goals. But maybe, you are still confused about what goals you should achieve. You might be thinking about what is the most important goal of fitness and exercise.
Don't worry. We've got you covered. Here are a few examples of common fitness goals that you can set for yourself. 
Every Month, Try a Different Workout
Having a fitness regimen is vital, but is it necessary to have the same fitness program all of the time? This isn't ideal. You should challenge yourself to maintain becoming stronger since your body becomes accustomed to the same actions.
See also: 11 Main Reasons Why Strength Training Is Truly Known As The Fountain Of Youth.
Extend Your Muscles More
Stretching is the most effective way to strengthen muscles, prevent injuries, and alleviate stress, yet most of us don't stretch enough often.
Not only is a warm-up and post-workout stretch essential for the muscles you are training, but stretching during the day can also benefit your general health.
Final Thoughts
Setting goals is essential in achieving anything we want in life, particularly getting healthier, stronger, and happier.
After setting your fitness goals, you also need patience and persistence to get the results you want.