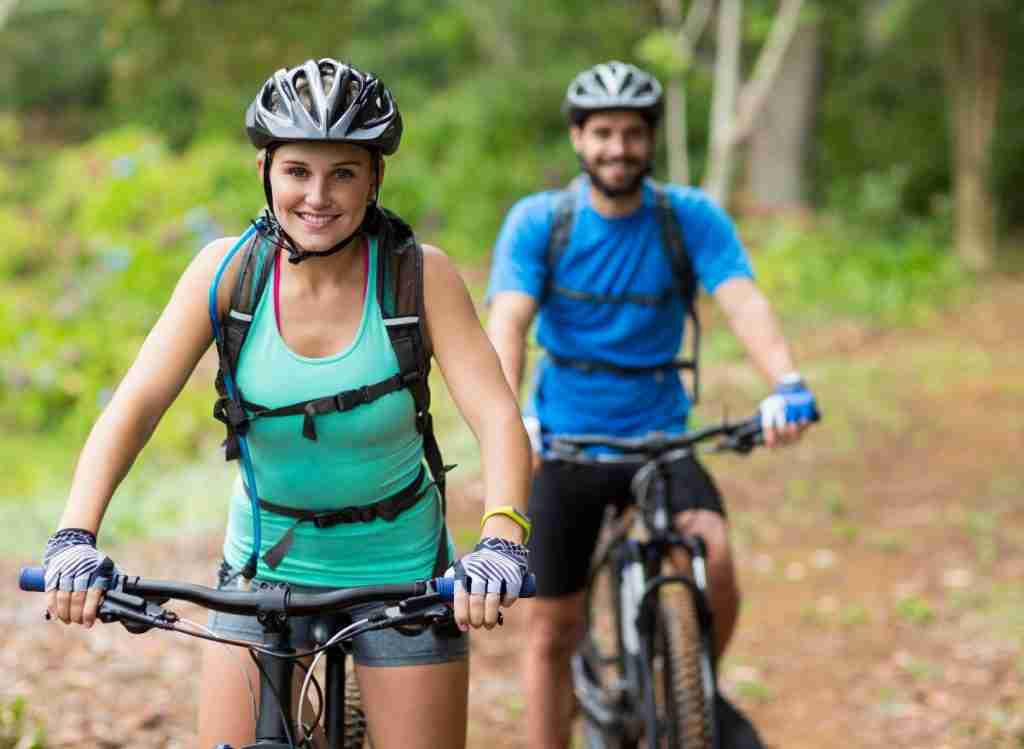 A perfect and strong abdominal muscle (abs) body is the dream of every male and female. One may succeed in building abs muscles through a lot of workouts. Along with many other workouts, cycling may help you build abs. However, you will need to adopt a proper routine workout and a clean diet to achieve your goal. You might now wonder how cycling can give you abs.
Cycling is excellent for maintaining your body weight and fat, according to Harvard Health Publishing research. But keep in mind that cycling alone can't help you build your abs body. You will need to include other types of workouts, such as strength training, cardio, and yoga, along with a clean diet. With daily cycling, you will notice a positive change and improved abs.
This article will discuss all the effects that cycling may impart on your body structure. So, let's move down to explore this beneficial guide. You might also enjoy reading: Top 18 Amazing Health Benefits Of Cycling
How Cycling Can Give You Abs
Generally, you need more than cycling alone to give you perfect abs; however, cycling will contribute to your overall fitness. While cycling, you use your abs for stabilization; your body keeps you steady and stable in the saddle.
1- Perform HIIT Cycling
The general recommendation is to stick to the 80/20 rule regarding intensity. You need to pedal 80% of the time at a lower intensity and 20% at medium to high intensity.
During your next bike ride, try to incorporate the 80/20 method of HIIT. You will see how effective it is in burning fats and calories in the long term. And it will increase your fitness and endurance level, helping burn even more calories and build abs.
HIIT significantly reduces abdominal and total body fat 50% of the time than steady-state training programs, according to research from the University of New Mexico.
In addition, performing HIIT Cycling is excellent for time efficiency.
2- Cycle On An Empty Stomach
Cycling on an empty stomach (AKA fasted cycling) is another excellent way to build abs cycling. Although this method provides excellent benefits, it also has some adverse effects, including being hard to stick to and tiring.
Generally, fasted cycling has an 8-hour window interval between when you have something to eat and when you plan to begin fasted cycling.
After about 8 to 12 hours of fasting during sleep, a study showed that exercising in the morning may help you burn up to 20 percent more fat. However, other studies reveal that it makes no difference in overall fat loss.
But, if you are planning to go for a long ride, take some healthy snacks with you. And keep in mind that your goal is to begin on an empty stomach and not starve yourself.
3- Include Other Type Of Workouts In Your Biking Routine
What you do on the days you are not cycling also plays a vital role in improving your endurance level and strength.
And the more you work out, the more you increase your fitness level. The more your fitness level improves, the harder and longer you can cycle. And the harder and longer you can cycle, the more abs you build.
Examples of off-bike Exercise:
4– Clean Your Diet
To successfully build abs with cycling, you will need to adopt a clean, healthy, and nutritious diet. And try to avoid eating junk and unhealthy foods.
Check out these articles t help you clean your diet:
Effects Of Cycling On Body Shape
Regular cycling imparts many positive effects on body shape and fitness. To be physically healthy, you should be physically active too. Proper regular cycling helps increase body activity and meets your weekly physical activity requirements.
There are many positive changes that you'll start observing in your body instantly after beginning this practice. Here are some of these effects.
1- Belly Fat Control
Unnecessary fat on the belly may result in different diseases. However, regular cycling exercise may help prevent body fat-related diseases. Though cycling seems just a practice of the legs, it imparts positive effects on all body organs.
Abdominal muscles(abs) are more likely to have the effect of regular cycling. This will help in decreasing belly fat and increasing weight healthily. 
2- Practice Leg Workout
Legs are also more likely to be affected due to lack of exercise. When you start cycling, your leg muscles will start becoming tight day by day.
This thing will help in the beautiful reshaping of your leg posture. Also, you'll not feel tired after any light exercise. Your jogging capability will be increased. 
3- Tightening of Body Muscles
Though cycling seems like an activity of just legs, the whole body organs work in this activity. Having daily cycling will help to develop and tighten your body muscles.
This will reshape your body into a new beautiful look. Running paddles cycle vigorously helps to make your body muscles strong and tight. 
4- Freshness 
Any kind of riding needs proper attention. Throughout your ride, your mind remains active, and you enjoy the riding. This thing brings a unique freshness to your face.
You seem fresh and active after having this type of exercise. 
5- Abs Body Shape
One of the major benefits of adopting cycling as a routine workout is abs body. Though cycling alone can't build abs muscles, it can do along with proper exercise and diet.
Mostly, people adopt this exercise to build their abs muscles. 
6- Increased Stamina
When you become used to cycling daily, your stamina increases automatically. Cycling needs proper strength to run the paddles effectively.
This thing will prove beneficial for you throughout your routine work. 
7- Joint and Bone Fitness
As you know, all bones of your body work vigorously along with the joints. This thing helps to keep your bones and joints fit. Also, you have to make curves while cycling that keep your joints mobile.
Also, paddling increases the mobility of your leg joints. All this adds up to make your bones and joints healthy and sound. 
8- Positive Weight Gaining
By removing unnecessary fat from your body, cycling helps in gaining weight positively. When you combine cycling with a proper diet, it will add to your overall health and physique.
So, this is a simple, easy, and flexible way to get rid of unnecessary body fat. 
Why Is Cycling a Beneficial Exercise?
Along with health benefits, there are many other advantages of adopting cycling as an exercise. Here are some of the most important benefits of this exercise.
1- A Safe Activity
Unlike many other exercises, cycling is a safe and healthful activity that results in the least injuries. You may get injured in other ridings, but this is probably the safest riding. 
Cycling is a low-impact workout; it treats your knee, hip, ankle, and joints gently.
2- Easy to Manage 
It's easy to manage time for cycling. You may use this type of ride as an exercise when you go shopping, school, academy, gym, or work. Also, no particular skills will be required to run the cycle.
Once you learn how to ride a bicycle, it will be enough for your whole life. So, it's the easiest to learn and easier to adopt healthy activity. 
3- Flexible Exercise
Along with time management, the intensity of cycling is also flexible. One can make it as intense as he wants. Initially, you can start from normal cycling, but gradually, you can move on towards aggressive paddling.
This will help to build high stamina easily. Also, if you're not feeling well, you can go for slow cycling for the sake of quick recovery. 
4- More Fun Than Exercise
If you take cycling as fun, it is fun and if you take it as an exercise, it is an exercise. In short, it's fun that keeps you fit too. So, you may keep yourself healthy by having fun. 
Can You Get a Flat Stomach By Cycling?
Cycling is an excellent way of burning calories, which in turn helps build abs. Proper daily cycling, along with proper food and workout can help you in getting a flat stomach. 
When bicycling, you use more than just your leg and glute muscles. The abdominal muscles are responsible for keeping you stable and balanced while riding and providing you with a solid platform to push from.
While cycling, your abdominal muscles contract to keep you stable and the ongoing contractions help tone your abdominal muscles and improve endurance and strength.
Are 30 Minutes of Cycling a Day Enough?
According to Harvard Health Publishing, 30 minutes of cycling, even at a moderate level, help burn 210 ( 125-pound ((57 kg) individual), 252 (155-pound (70.31 kg) individual), and 294 (185-pound (83.92 kg) individual), while the same individual burn 495, 594, and 693 when biking over 20 miles per hour (MPH) in 30 minutes.
Cycling daily for just 30 minutes can help you in building your abs body. Also, this will help you in the prevention of many-body diseases. 
Cycling for at least 30 minutes a day is enough to help build up your muscular endurance and cardiovascular. By gradually increasing the time you cycle, you will improve your aerobic capacity, allowing you to bike longer and harder.
In addition, you will feel energized during the day because exercise helps boost your overall stamina.
Final Thoughts
Cycling is a simple way to become healthy and fit. This fun way of getting fit may result in a fit and toned body if accompanied by proper food and a workout.
So, you can get rid of many body issues by adopting cycling as a habit. Just 30 minutes of daily cycling will be enough to get all the above-mentioned benefits. According to Harvard Health Publishing research, cycling is a great way to maintain your body weight and reduce fat. However, it's important to keep in mind that cycling alone won't be enough to build your abdominal muscles.
You will need to incorporate other types of exercise, such as strength training, cardio, and yoga, along with a healthy diet. By consistently cycling and engaging in these other activities, you can expect to see positive changes and improved abdominal definition over time.