You do not need to be an active sportsperson to suffer from Athlete's foot. Anyone can have this embarrassing and uncomfortable foot condition. If you are handling a person's laundry with Athlete's foot, you should follow certain guidelines to prevent the disease from spreading.
Since infected socks, shoes, and other garments can carry this fungus and spread it to others, it is important to know how to wash them. But, will washing shoes kill Athlete's foot? 
Washing your shoes using water and detergent should help kill the fungus causing this condition. Some people use hot water and disinfectants to ensure that the fungus does not survive and continue infecting and reinfecting shoe wearers. 
Furthermore, Athlete's foot fungi thrive in damp places, socks, shoes, towels, workout clothes, and other sports clothes. Shoes infested by the fungi often smell bad; if not properly washed, the fungi can spread to anyone wearing them. 
Although it may be unrealistic to wash your athletic shoes after every exercise, you can dry your shoes before you wear them the next day. Drying your shoes prevent bacteria and fungal build-up before you can wash them. 
Are you looking for Comfortable And Breathable Shoes or Athlete's Foot? Here are the top 5 shoes on the market!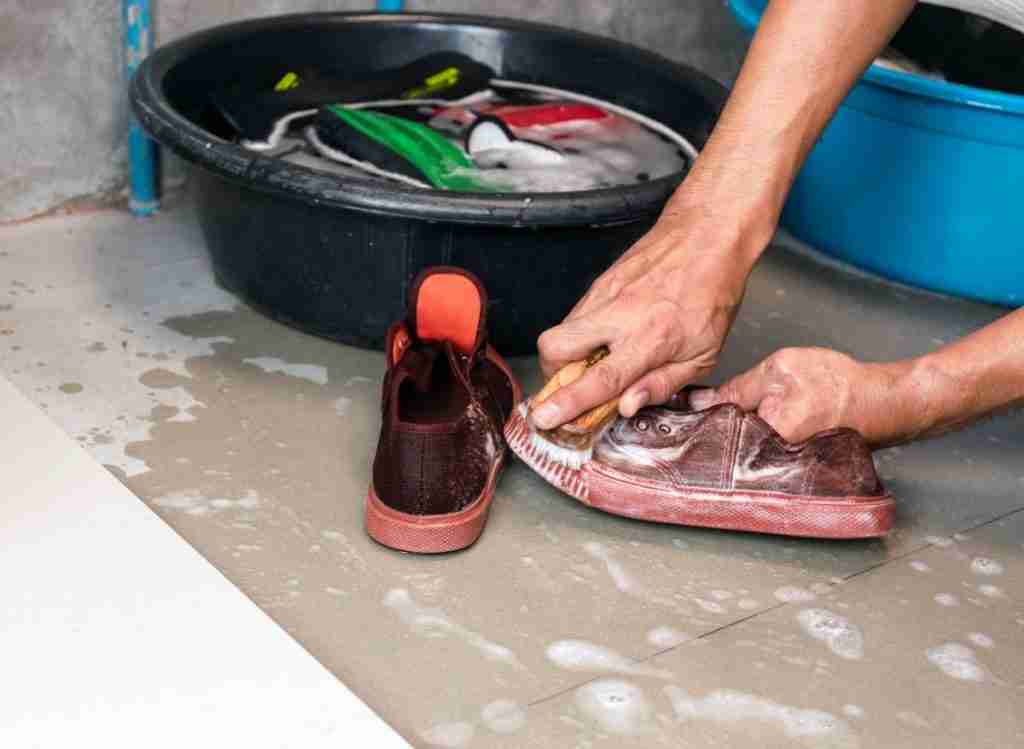 How To Wash Your Shoes To Kill Athlete's Foot
Regularly washing your shoes is one of the best ways of keeping Athlete's foot causing fungi at bay. You will kill the bacteria and the fungi, thus ensuring your shoes smell nice. 
Most shoes can be washed directly using a washing machine and then hung to dry. However, do not dry your shoes on a tumble dryer since the shoes' soles could damage your machine. 
Alternatively, you can use soap, disinfectant, and a washing brush to clean your shoes and hang them to dry. The soap and disinfectant will kill the bacteria and fungi that cause Athlete's foot. 
Ensure the washed shoes are completely dry before wearing them; otherwise, you could have reinfection. If you are not convinced your shoes are completely dry, wait for one more day to remove any lingering moisture in them. 
It is standard practice to have more than one pair of shoes so that you do not wear your sports shoes back-to-back. Having more than one pair also allows you to wash them without affecting your routine regularly. 
As you wash your shoes, do not forget your socks. Some people have the habit of reusing yesterday's socks, but this only heightens the risks to Athlete's foot. Socks often absorb the sweat throughout the day and are a perfect breeding ground for fungi. Therefore, ensure you wash them after a day's wear.
What Kills Athlete's Foot Faster?
You can kill Athlete's foot faster using home remedies or medication. Let's begin by discussing various home remedies available for you before we consider medications.
Home remedies for Athlete's Foot.
Home remedies are things you can do that do not entail using medicine, powder, or cream to kill Athlete's foot. Here are some examples:
1- Hydrogen Peroxide
Hydrogen peroxide is a perfect fungi killer capable of killing fungus on your feet and any surface bacteria that cause infection. How can you use hydrogen peroxide to kill Athlete's foot?
You can pour it directly into the affected area to kill the fungi. You may feel a sensation or sting, especially if the disease left open wounds. Clean your feet before using hydrogen peroxide and pour it twice daily until the infection is gone. 
2- Tea Tree Oil
Tea tree oil is an excellent antibacterial and antifungal, making it an ideal candidate for treating Athlete's foot. One study showed that daily applying tea tree oil to your feet could eliminate Athlete's foot symptoms and the responsible fungus within weeks. 
You could mix tea tree oil with warm coconut oil at 25 to 50% tea tree oil concentration for better results.
Apply this mixture to the affected regions twice a day. 
3- Neem Oil
Neem leaf extracts and neem oil have excellent antifungal capabilities and can help kill Athlete's foot.
Apply this oil directly to the affected areas three times a day.
Ensure you massage your skin to allow the oil to penetrate the skin and treat infection developing under the toenails. 
4- Rubbing Alcohol
Alcohol has been used for centuries on cuts to deter infections. Like hydrogen peroxide, you can rub alcohol on the affected areas to kill off Athlete's foot causing fungi.
Apply rubbing alcohol directly to the affected areas twice a day.
Alternatively, you can soak your feet in a solution with 30% water and 70% rubbing alcohol for 30 minutes to kill the fungus eating your feet.
5- Garlic
Though some people detest garlic's strong scent, you can apply it on the feet with Athlete's foot as a topical treatment.
One study from Mycoses Journal indicated that applying garlic on feet with Athlete's foot completely cured 79% of participants within 7 days. You can crush four or five garlic cloves and rub the paste on the affected areas twice daily. 
6- Salt Solutions
Using sea salt is probably one home remedy trick I have used with great success. Salt has antifungal and antibacterial properties, making it an effective natural remedy for Athlete's foot. It may inhibit the spread or growth of the disease, allowing your feet to recover. 
Besides using direct sea salt solution, you can mix it with other natural treatments like vinegar to form a paste.
You can also dissolve a cup of sea salt in a warm foot bath and soak your feet in it for 20 minutes.
Ensure you thoroughly dry out the feet when you finish soaking. 
7- Talcum Powder
Powders like talcum, baby powder, or corn starch can also treat Athlete's foot by drying out all the moisture the fungi need to survive.
When you dry your feet using these powders, you limit the spread of the fungi because sweat and moisture are reduced. Before wearing socks, you can apply the corn starch to the dried and affected feet. 
8- Medications
You can also use antifungal creams, powders, sprays, and balms sold in the market to get rid of Athlete's foot fast. Here are some examples of medications to treat Athlete's foot:
Lotrimin
Lotrimin is an antifungal powder that you can rub on your feet to help absorb moisture and sweat, thus preventing Athlete's foot from taking root.
Apply this powder daily on your feet, especially when you want to wear closed shoes all day. 
Lamisil
Lamisil cream is considered one of the best topical products you can use to treat Athlete's foot. It is also available in gel form. This cream helps kill the fungi and deter their growth. 
It is easily absorbed into the skin's outer layer, making it suitable for invading the fungi's home. The cream is good for dry skin, while the spray and gel are ideal for individuals whose feet sweat a lot. 
Arm & Hammer spray
The spray is meant to be invisible since it leaves a little mess. Since the spray features baking soda, it is good for moisture absorption.
It also has odor-neutralizing ingredients to keep your feet smelling fresh even after a long day on closed shoes.
Tinactin
Tinactin is an antifungal liquid spray that helps dry out most fungi and soothe burning or itching feet. It is an effective over-the-counter solution for those with Athlete's foot. 
SMOOTHAF 
It is a medicated towel containing tolnaftate, a powerful antifungal drug. Furthermore, SMOOTHAF is alcohol-free, which will not dry your skin.
You can expect fast and effective relief from burning, itching, redness, scaling, soreness, cracking, irritation, and discomfort between your toes.
You will notice significant improvement within a few days after you start using SMOOTHAF. It operates differently by soothing the affected skin rather than killing it. 
How Long Does Athlete's Foot Fungus Live On Surfaces?
If you thought that fungi are like viruses that die on the surface after a few days, you thought wrong! It is challenging to get rid of fungi, with an Athlete's foot fungus capable of surviving in your unused shoe for up to 20 months. 
Therefore, you should continue treating your shoes using appropriate methods until all fungi are dead. You can use UV shoe cleaning or antifungal cleaning materials to help you kill Athlete's foot. 
Besides cleaning shoes, you should also ensure your socks are treated because they can hoard lots of fungi. Socks can continue to host fungi even after cleaning, which can prevent your Athlete's foot from healing or cause a recurrence if they are not properly treated. You can use socks bleaches or sprays to treat them after washing with disinfectants. 
Some people also stop treating their feet immediately after witnessing recovery; however, fungi are microscopic to be seen with naked eyes. They may continue to lodge on your feet even after the supposed recovery. 
Therefore, continue treating your feet with home remedies or over-the-counter drugs for several weeks after healing to ensure you are out of the woods. 
Wrapping Up
Athlete's foot can be a pain on the skin, but regularly washing your shoes and socks can help stamp it out. You can include disinfectant into the water when cleaning the shoes and ensure they are completely dry before putting them on. 
Additionally, you can use home remedies like hydrogen peroxide, rubbing alcohol, garlic, neem oil, or tea tree oil to clean your feet and shoes. Although Athlete's foot fungi are stubborn, you can kill them with a disciplined treatment regimen!