Taking a break from running is something that almost every runner has experienced. It might be due to injury, lack of motivation, pregnancy, or sickness. You need to know how to start running again after a break.
No matter why you took a break, getting back into running after taking time off can be intimidating. With the right strategy and a little bit of motivation, you can start running again smoothly and comfortably.
This article will explore 9 simple and easy ways to help you with a smooth and injury-free return to running and tips on how how to start running again. Let's dive into how to start running again.
Amazing Tips On How To Start Running Again
Running is an excellent addition to your weight loss journey. It is one of hight burning calories workout. It is also excellent for your physical, mental, and emotional well-being and is relatively low cost.
Sometimes life happens; some of us may take a break from running because of an injury or because of a lack of motivation or work responsibilities that demanded our time.
If you are looking to start running again, there are some essential factors to consider to minimize your risk of injury. Let's explore these 9 amazing tips on how to start running again.
1- Start Slow and Focus on The Bigger Picture
One of the biggest reasons people get injured when they start running again is that they do not give their joints, ligaments, bones, and muscles sufficient time to adjust to the new pressure they put on them.
To prevent injury, you need to give your body enough rest and nutrition after your training session to recover from the micro-injuries, rebuild the body stronger, and not increase your training load too quickly.
Be kind to yourself and always remind yourself WHY you are running. Most of us run to get or stay in shape. Training too frequently and not allowing your body to recover after a session will lead you to injury.
When you start running, aim to get moving and combine running and walking. It is totally acceptable to start only with long walks. The key here is to aim for consistency and keep your eyes on the bigger picture that you are on the road to a better, healthy, and happy lifestyle. 
If you are a beginner looking for simple and step-by-step tips, check out this article these 11 simple tips on how to start running when overweight and out of shape to help you get started.
2- Start By Building a Habit
Try not to pick up where you left off.  Your body lost some of its athletic ability, so you will have to start at a lower level of running and build up your habit.
After a short or long break, getting back into the groove of running on a regular basis can be challenging.
And if you are a regular runner, you set high standards for yourself for both pace and distance.
As you slowly get back into running, it is essential to focus on consistency first. Don't worry about how fast or how far you run, set SMART Running Goals; it will help you get back to running again.
For instance, on your first week or two back, you might set a goal to complete two 3-mile runs at a comfortable pace. These exercises will give you a sense of how your body feels as you return to running.
You will achieve a sense of pride and accomplishment by setting and reaching your SMART Running Goals. As you set and accomplish small goals, you will regain your love of running without putting your body at risk for injury or your brain at risk for burnout.
And slowly, you will start building a habit of running, and it can be early in the morning before your kids wake up or after work before dinner.
Find what works best for you and suits your lifestyle. Once running becomes a habit, it will be very easy to keep it going.
Once you build a habit of running and working out, you feel more natural and more comfortable, and it will not take as much self-discipline even though when you do not feel like it, says Charles Duhigg, author of The Power of Habit.
3- Create and Follow a Training Schedule
Remember, when you first began running, you may have created and followed a beginner training program to learn how to run and to keep yourself motivated.
After taking an extended running break, most runners follow a beginner's schedule to re-establish a running habit and avoid getting injured.
To help you get started smoothly on how to start running again, follow this four-week sample training plan for beginners.
It will help to ensure an injury-free comeback to run.
Find more details and helpful running for weight loss tips for beginners.
4- Strength Training
It is essential that you add strength training to your running routine. Once you stop running, you also start losing muscles in some body parts.
If you lack the muscle strength in your legs needed for running, you risk straining your joints and ligaments.
Including strength training when you start running is essential to remain injury-free.
At-home workouts are excellent ways to build back your muscles and prevent injury throughout your comeback stage.
When starting to strength train, make sure to choose exercises that target your glutes. Glutes are among the most important and the most powerful muscle of your entire body. These muscles play a vital role in activities such as running, jumping, and sprinting.
Check out these 24 science-backed exercises that target your glutes and help you get bigger buttocks.
5- Cross Train
Adopting an intensive running program can lead to injuries such as hamstrings, poor flexibility, and imbalanced muscle development.
It would be smart to combine your running exercise with other disciplines such as cycling, yoga, pilates, fitness, and swimming to prevent injuries. As a result, cross-training will help you increase strength and flexibility in muscles, and it will also help prevent running burnouts and boredom.
Do not just run. Aim to add cross-training, such as walks, bike rides, hikes, or other workouts you enjoy.  Aim to add cross-training when you are getting back to running. It will help you increase endurance, build strength without overstressing your joints, and raise your risk of injury.
For instance, you add cross-training activities such as yoga, walking, cycling, and strength workouts to your running schedule. Choose activities that you enjoy so that your program stays consistent. See tip number for a perfect cross-training schedule.
6- Gradually Increase Your Distance
If you start running after injury or illness, I would advise you to start with a few run/walk sessions to test your body's ability to cope with the pressure.
If you are a total beginner, you may want to consider these 11 Simple Tips on running when overweight and out of shape; it will help you get started the right way.
When you start to run again, follow the 10% rule, which means you will try not to increase your weekly distance by more than 10%.
A study published by the Journal of Orthopaedic and Sports Physical Therapy observed that beginner runners who increase their running distance by more than 30% over two weeks seem to be more exposed to distance-related injuries than runners who increase their running distance by less than 10%.
Some runners find themselves re-injured because they increase distance and pace too quickly.
For instance, if you were running six miles (9.7km) a day before your break, don't rerun six miles (9.7km) a day immediately after returning.
7- Prepare Your Body And Mind To Get Ready
Instead, start to increase your distance gradually. Start with a short route that you know you can run with ease.
During your first runs, keep your run at a comfortable and conversational pace for five to seven weeks until you establish a good running base. Then increase speed slowly, and increase your overall distance by no more than 10 percent per week.
Also, be conservative with your running program.  Try not to run two days in a row when you are initially starting.
8- Aim To Add Cross-Train Activities Every Other Day
To help you stay injury-free, strengthen your muscles, increase your distance gradually, and allow sufficient rest days.
If your break from running is due to an injury, try to get clearance from your physician or physical therapist before you start to run.
They will provide you with personalized advice on how much and how often to run.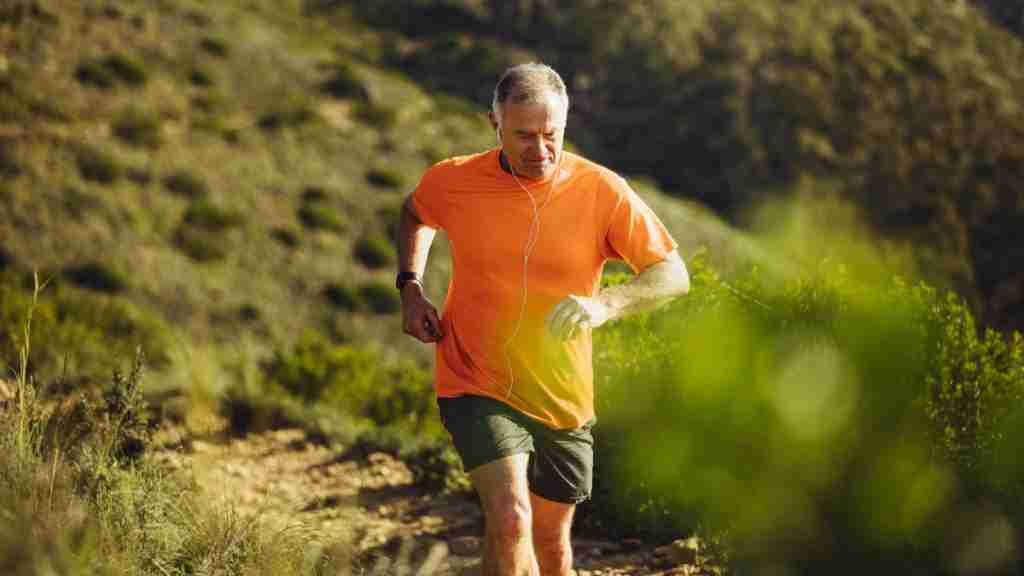 9- Join a Running Group
Joining a group of like-minded runners can significantly contribute to your running your comeback stage.
Being surrounded by a group of individuals with similar goals and aspirations can boost your motivation. Also, a group of like-minded runners can give you some personal tips and direction as regards your physical condition and proper running exercise.
Joining a group of like-minded runners can help you meet new people, make new friends and socialize.
You can even find your soulmate while running; isn't that cool? Check Fitness Singles for fitness dates and exercise, friends!
As you start running again, motivation is a crucial factor. Join a running group that will help boost your motivation.
For example, you will meet new friends who can help to hold you accountable as you rebuild your schedule, and your runs will become more enjoyable with pleasant and fun conversations.
Check with your neighborhood running clubs or running shops to see when they offer group runs. Meetup is an excellent website for searching for running groups.
You can also join a charity training group where you will simultaneously find many people to run with and help a worthy cause.
Determination is the American Cancer Society's to help raise funds to take down cancer. 
Team Challenge is an endurance training program that empowers you to get involved and help discover a cure for Crohn's disease and ulcerative colitis.
Team In Training to help raise money to pioneer groundbreaking research and progress in the fight against cancer for The Leukemia and Lymphoma Society (LLS). 
10- Register For a Race
When you have a few weeks of running under your belt, you may want to consider selecting a race to prepare for.
Begin with a shorter event, such as a 5K or 10k, before registering for a longer-distance race. If you are considering running for 5K or 10k, check these 14 Tips for Preparing and Running Your Best 10K.
Planning and preparing for a race will help you to stay motivated during your training. Convince a friend or family member to run and prepare with you for increased motivation or fun to make it more fun.
If you run for fun and not a competition, consider setting a different goal. Maybe there is an off-road trail that you would like to try. Or perhaps you would like to take a day trip to discover a new running route in a nearby town.
Setting any inspiring goal can help to keep you motivated and keep your schedule on track. Ready to register for a race? Check out races close to your location at World's Marathons or if you reside in North America at Run Guides.
11- Be Kind to Yourself and Stay Positive
You may feel frustrated when you think about your past running accomplishments, and it may even appear like they are out of reach at this time.
However, be kind to yourself and stay positive. Don't beat yourself up. It is okay; remember, Rome was not built within a day. Right?
Just concentrate on the positive steps and accomplishments that you are taking and build momentum from there. As you set and reach milestones, you will feel good about your progress, and your confidence will improve. Patience is critical throughout this building stage.
Whenever you find yourself getting frustrated about your progress, talk to compassionate running friends who have probably had a comparable experience.
Always remind yourself to be thankful and fortunate to be able to run at all, even if it is not at the same pace that you used to run in the past.
You will have enough time to train and work on beating your previous personal record (PR). Just focus on enjoying your runs as you slowly and safely increase your fitness level.
12- Reward Yourself
Rewarding yourself will keep you motivated. Rewards do not need to be extravagant. One way to reward yourself is to do something you love and enjoy.
Here are a few recommendations on how to reward yourself:
Take time and cook a special healthy meal for yourself, something you enjoy. I love to reward myself with fresh salmon with vegetables and delicious vegetable smoothies.
Try a massage to soothe the pain of intensive running exercises.
When you reach some of your goals, aim to take a day off and go for a trip to the mountains.
Try something new such as camping, hiking, skydiving, or joining cooking classes.
Wrapping Up
Follow these 9 amazing tips on how to start running again, and you will make a triumphant and injury-free comeback to running.
What are your new running goal or some advice?
Please share with us to inspire other fellow runners.