This post contains affiliate links.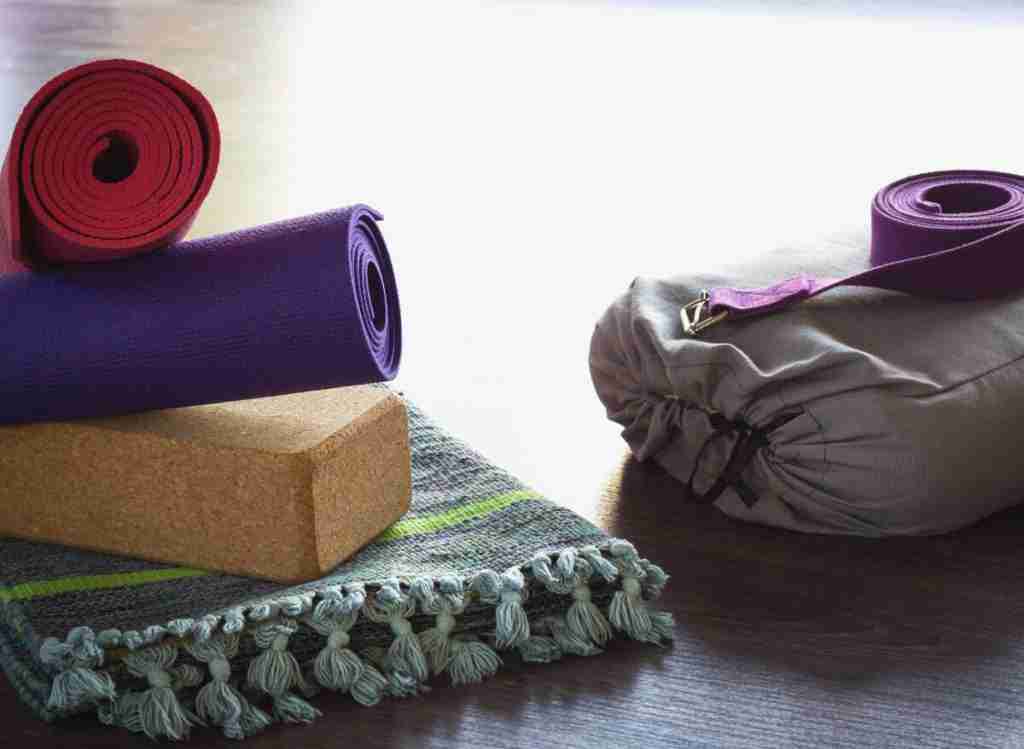 Yoga is a favorite pastime for many individuals that want to feel refreshed and do good for their body through movement at the same time.
Yoga also comes with many benefits, including helping to improve sleep patterns, manage stress, and incorporate self-care. There are even different props for yoga available to help you get the most out of your session. 
This article will introduce you to some of the most helpful yoga props available on the market today and explain how to use them; it might give you some inspiration to upgrade your yoga workout!
Also: 6 Things To Avoid Doing Before Yoga Practice
Yoga Bolster
A yoga bolster is a small, lightweight cushion that is most commonly used in restorative yoga. They come in many shapes and sizes and can be used to modify various poses if you are not comfortable doing them unsupported, such as:
Supported child's pose: When doing the child's pose, place the bolster in between your knees so that you can rest your head and shoulders on it, and you can use other things to prop the bolster up if it feels too low. 
Supported backbend: Place the bolster in line with your shoulders and use it to support your neck and upper back while doing this pose. 
Supported twist: Lay your body on the bolster while gently twisting in both directions. 
Reclined hero pose: Position the bolster under your back while doing the hero pose; you can also prop it on something if you feel too low. 
Yoga bolsters come in three shapes: cylindrical, rectangular, and lean (a semi-circle-like shape). The best shape for you depends on your body shape, as does the size. Bolsters also come in different weights, so you will probably want a lighter one if you will be carrying yours around.
Additionally, bolsters are filled with various materials that require different care and cleaning processes, such as polyester, recron, and buckwheat. So, choose the one that can fit into your cleaning routine. There is a myriad of colors and patterns that they come in as well to fit any style. 
See also: Can You Do Too Much Yoga?
Best Yoga Bolsters
If you are looking for a bolster for your workout, check out this list of some of the best available:
Hugger Mugger Standard Yoga Bolster: This bolster comes with a cotton cover and features a foam core to provide a balance of comfort and stability. It also comes with a carry handle, and the cover is removable, so you can wash it.

Manduka Enlight Yoga Bolster

: This rectangular bolster is filled with foam and boasts a plush microfiber cover for comfort and support. It comes with its own carrying handle and can be washed as well.
LotusCrafts Yoga Bolster: This bolster is eco-friendly because it is made of 100% cotton, and it is also strong enough to support any pose because it is filled with wool. It is also extremely lightweight, so you can bring it with you wherever you work out.
Yoga bolsters are found in almost every yoga studio because they are simple yet purposeful; you won't regret having one in your yoga toolbox!
Yoga Straps 
Yoga straps are fabric or rubber pieces used to help yoga practitioners perform yoga poses that are difficult for them. They can also be used to achieve better alignment in poses, straighter and more correct posture, and a better stretch and, thus, greater relaxation. Yoga straps also help you hold poses.
These are some poses that yoga straps can help with:
Dancer's pose: To help you stretch into this pose, you can make a loop with the strap and put your foot into it, then bring your hands up over your head while holding on to the other end of the strap.
Cow face pose: When doing this pose, hold the strap behind your back and place your hands at either end, then slowly inch your hands down the strap until they are touching or clasped.
Pigeon pose: To assist you with the stretch in this pose, loop one end of the band around the end of your foot and pull the other end over your shoulder.
Seated forward bend: In this pose, you can help yourself stretch and bend further by hooking the middle of the bend around your feet. 
See also: This Is The Proper Way To Breathe During Yoga
Best Yoga Straps
If you are unsure what yoga strap would be best for you, check out this list of some of the best ones available today:
Ornery Yoga Strap

: This strap has 12 separate loops in it to make it the length that is best for the pose you are doing and still keep your foot secure. It is made of woven nylon, which is durable and long-lasting but can be slippery.
Manduka Align Yoga Strap: This strap is lightweight and durable because it is made with 100% cotton, and the middle bar design provides strong, slip-free support.

Tumaz Yoga Strap

: This eco-friendly yoga strap is made of 100% tightly woven cotton, and the weaving pattern provides a sturdy surface to prevent slipping. This strap was designed with yoga practitioners in mind and can support up to a ton of weight.
Yoga straps are one of the most inexpensive props to get ahold of, ranging from $7-$11. So if you are wanting to try a prop but don't know where to start, this is your best bet. 
Knee Pads 
Knee pads are used to support you while doing poses that are rough on the knees by cushioning them and thereby protecting the muscles and joints. Some poses that may place a lot of strain on the knees include:
Any pose with kneeling
Lotus pose 
Fire pose 
Warrior pose 
Log pose 
Hero pose 
Yogi squat
See also: 6 Yoga Poses for the Digestive System
Best Yoga Knee Pads
These are some of the best knee pads available for purchase today:
SukhaMat Yoga Knee Cushion

: Made with non-slip ridges that help hold your knees steady, this 15 mm knee pad was designed to fold right over with your yoga mat and provide you hours of comfort. It is also biodegradable and latex, phthalates-free, and comes in four colors.

REEHUT Yoga Knee Pad

: This yoga knee pad is made of sustainable NBR rubber and comes in three different colors. It is 15 mm thick, so it can fit right inside your yoga mat and even comes with a carrying strap so you can carry it along if you prefer. 

Gaiam Yoga Knee Pad Cushions

: Unlike most knee pads for yoga that consist of a rubber-like material, these are made of gel to give your knees extra support. They also have a non-slip grip underneath so that you stay stable, and they only weigh one pound so that you can easily store and take them with you.
Any of these knee pads will serve you well and keep you as pain-free as possible so that you can enjoy your yoga session.
Yoga Wheels 
A yoga wheel is a hollow, strong, circular piece of equipment meant to help yoga practitioners and other athletes stretch so that they can loosen their muscles and become more flexible. It is versatile and can remove tension from typically hard-to-reach areas. Some of the other benefits of the yoga wheel include: 
It provides safe and effective assistance for difficult poses. 
It guards against injury by providing a support system for your body.
It can offer pain relief when used as a roller to soothe muscles. 
It promotes proper posture. 
The following are some poses you can try with help from a yoga wheel:
Spinal stretch: Center the yoga wheel on your back and lay back on it, gently and slowly bringing your arms out to the side and allowing your head to relax back.
Forward fold: This stretch releases tension and knots in your back and shoulders. Place the yoga wheel beneath your calves, and reach forward with your arms to grab it and pull yourself further into the stretch.
To open the sides of your body: Kneel next to the wheel, drape your side over it, and allow yourself to relax into the stretch.
You can also use a yoga wheel to enhance your balance, posture, and strength when doing standing poses.
See also: Meditate Or Stretching: Which Should I Do First?
Best Yoga Wheels
Here are some top-rated yoga wheels available for purchase today:
UpCircleSeven Yoga Wheel

: This wheel can hold up to 350 pounds because it is made of hardwood. It is covered with thick padding and built with closed-cell technology that resists sweat and helps keep you steady.

SukhaMat Pro Series Yoga Wheel

: Made of an eco-friendly PVC rubber alloy and fitted with a super thick TPE rubber cushion to keep you supported and comfortable. It is built to last you through hundreds of workouts.

REEHUT Yoga Wheel

: Made out of a super-strong TPE rubber and the hybrid TPE foam cushion to provide strength and comfort. The wheel can support up to 350 pounds, and the cover is also anti-slip to keep you steady.
Yoga wheels are a fun, dynamic tool to bring a new element into your daily yoga sessions. With so many colors, styles, and uses, you can't go wrong with trying one out. 
Infinity Block
The infinity block is a new rendition of the typical yoga block. While most yoga blocks are rectangular and are essentially bricks, the infinity block is made to meld with your body's natural curves, allowing for a healthier stretch and the best possible alignment. 
The space in the middle allows you to put your hands, arms, and feet through and saves you from having to readjust mid-pose. They can be used in the same way as the square yoga blocks. Some poses you can try with the infinity block are:
Downward dog: Place the block in front of you on the mat, then rest both hands on it and ease yourself down into the pose. Using the block will make the pose easier to sustain if you are not used to it.
Crescent lunge: Place one foot on the block and lunge forward, then bring your arms and hands around and rest them on your thigh. The block will help you hold your balance in this pose. 
Reclined twist: Place the block in between your knees and bring your arms out to the side and gently let your legs drop in either direction, facing your head in the opposite direction of your legs. The block will help hold your knees in place so you can concentrate on the pose. 
See also: The Differences Between Hot And Regular Yoga
Best Infinity Blocks
Bhoga, the manufacturer of the infinity block, offers them in multiple sizes, so you can choose the one that best fits your current needs or stack them to create height if necessary.
All the blocks are made of sturdy, reinforced wood and only weigh two pounds, making them a simple and lightweight addition to your yoga practice. Check out this set of four infinity blocks on Amazon.
Yoga Mat
This is the one prop most people think about when they hear the word yoga, and it is often required to achieve the best results from your practice. Some people may not think a mat is necessary when they can do yoga on the floor, but there are several benefits to using a yoga mat, such as:
There is ensured safety when doing poses. 
It is a better hygiene practice because you don't have to touch the floor or borrow a mat. 
There is greater comfort and better body alignment when practicing.
You can have personal space to practice in a group class. 
See also: 12 Benefits Of Goat Yoga
Types of Yoga Mats
Yoga mats come in many different materials, including PVC vinyl, TPE (plastic and rubber mix), NBR rubber, or a natural material along with a host of others. Each has advantages and disadvantages: 
PVC: Durable and easy to clean, but harmful to the environment and human health because they contain chemicals such as phthalates and lead. 
TPE: Affordable, durable, easy to clean, and recyclable, but it has many chemicals in it and loses grip when wet.
NBR: Dense for joint cushioning, dirt and sweat repellant, durable, and easy to clean, but not suited for outdoor sessions, and it is harder to balance on.  
Yoga mats also are made with various thicknesses and levels of grip. If you have sensitive joints and tend to slip, a thick mat with more grip would suit you best.
Thinner yoga mats are ideal for those that take their workouts on the go. It's best to find the best balance between grip and thickness so that you can move properly yet still be supported. 
See also: 9 Best Yoga Mat for Bad Knees And A More Blissful Practice
Best Yoga Mats
Here are some yoga mat suggestions for you to consider: 
Whenever you are looking for a yoga mat, ensure that you take the time to find one that meets your body's needs and personal preferences.
After all, you will make use of your mat every session, so it is worth making sure you enjoy it; whether you choose one from this list or find your own, you will ultimately decide on the one that works best for you.
See also: Best Fitness Tracker For Yoga And A Healthier Life
Yoga Blanket
A yoga blanket is any single layered piece of cloth that can be used to support yoga practice. It is used to help you keep warm if you need it during meditation, cushioning any part of your body that may need it during practice, and helping you through poses that may be difficult for you. 
You can also use a blanket to adapt any pose and fill in the gaps if you cannot reach in a pose. Blankets can also be a substitute for yoga towels or mats if you do not have either. They are made of cotton, wool, or a mix of fabrics. Styles and colors abound as well.
See also: 5 Easy Ways to Help You Meditate If Your Nose Is Blocked
Best Yoga Blankets
Here are some good quality yoga blankets that are available for purchase right now:
Open Road Goods Yoga Blanket

: This blanket is made of a blend of polyester and other fabrics to make it more durable than most blankets and is large enough to double as a yoga mat. The one downside to this blanket is that it may be a little rough. 

RUTH&BOAZ Outdoor Wool Blend Blanket

: This blanket is super soft and will keep you extra warm in the cold. It is thick enough to be used as a support. However, this blanket may be too thick for warmer climates.

Spirit Quest Supplies Bodhi Blanket Mexican Style Blanket

: This blanket is made of acrylic polyester that is sturdy and durable enough to be a yoga blanket. It is a bit heavier than most blankets, so it may be difficult to use in between stretches.
Yoga blankets are a soft and comforting way to get more out of your yoga workout. There are many blankets to choose from, so pick the one that feels right to you.
See also: How To Get Good at Yoga Faster?
Conclusion
Yoga props are designed to help you get the most out of your yoga workout and achieve your goals.
Whether it is a bolster, kneepad, yoga wheel, yoga blanket, or the classic yoga mat, each of these tools will support you, help you improve your flexibility, and assist you in relaxing and getting stronger.