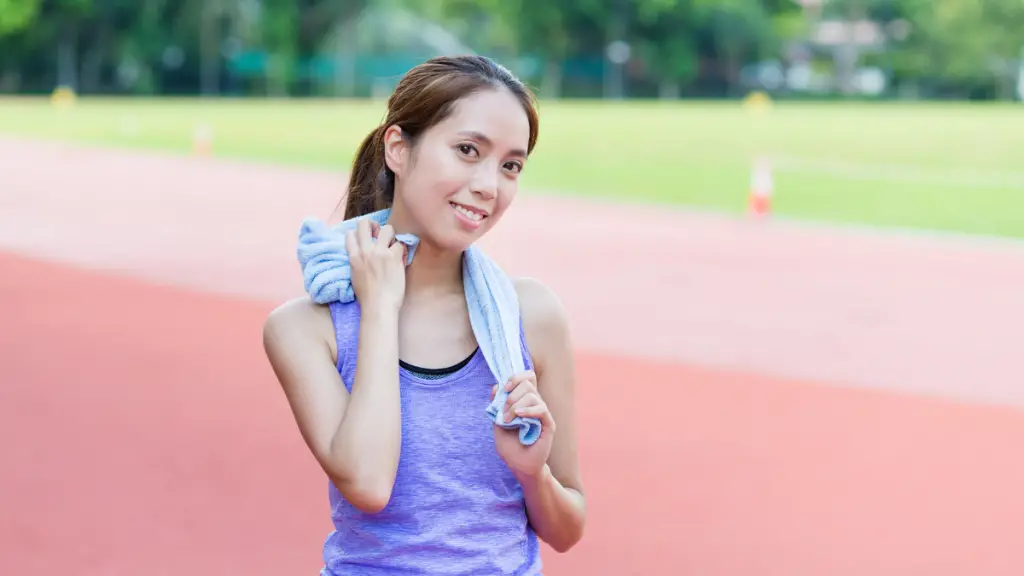 The Japanese towel exercise was pioneered by Dr. Toshiki Fukutsuji, a Japanese reflexology and massage specialist to help lower back pain and fix the spine. So, the Japanese towel exercise?
According to Dr. Fukutsuji, the Japanese towel exercise may also help with weight loss by correcting the pelvis placement. He also claimed his method could strengthen your core muscles, overcome bad posture, decrease back pain, and reduce the waistline.
In this article, you will learn everything you need to know about the Japanese towel exercise, how to do it correctly, and whether it really works.
See also: 9 Effective Korean Tips to Lose Weight Faster
What is The Japanese Towel Exercise?
Over ten years ago, Dr. Fukutsuji developed the Japanese towel exercise to help people get their bodies in shape. The technique claims to help eliminate belly fat, improve posture, and strengthen back pain, simply by using a towel.
Dr. Fukutsuji says it works because he found that an extra layer of fat around the belly results from the misplacement of your pelvis. Your waistline is decreased by correctly exercising the area around your stomach and the pelvis placement.
The exercises introduced by Dr.Fukutsuji suggest lying on a rolled towel for five minutes three times a day.
According to Fukutsuji, the Japanese towel exercise may help you improve your posture and, after some time of training, lose weight due to its skeleton improvement.
The Japanese towel exercise became extremely popular in Japan and other parts of Asia about ten years ago.
How to Do The Japanese Towel Exercise?
STEP 1 – Prepare a regular medium-sized towel and roll it into a cylinder, no less than 38 cm ( 96.6 in) long and approximately 10 cm (25.4 in) wide.
See also: 9 Best Yoga Mats for Bad Knees And A More Blissful Practice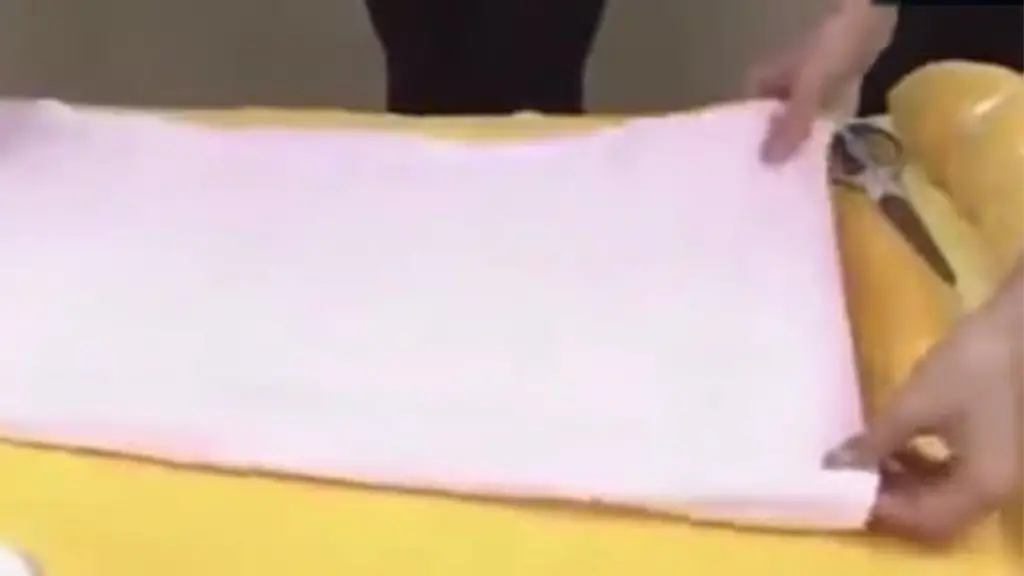 STEP 2 – Firmly roll the towel until it forms a sausage-like shape. The towel should be strong enough to support your back when you lie down.
STEP 3 – Wrap it with string, band, ribbon, or tape, so it stays put.
STEP 4 – Once you tie your towel, it should look like the image below.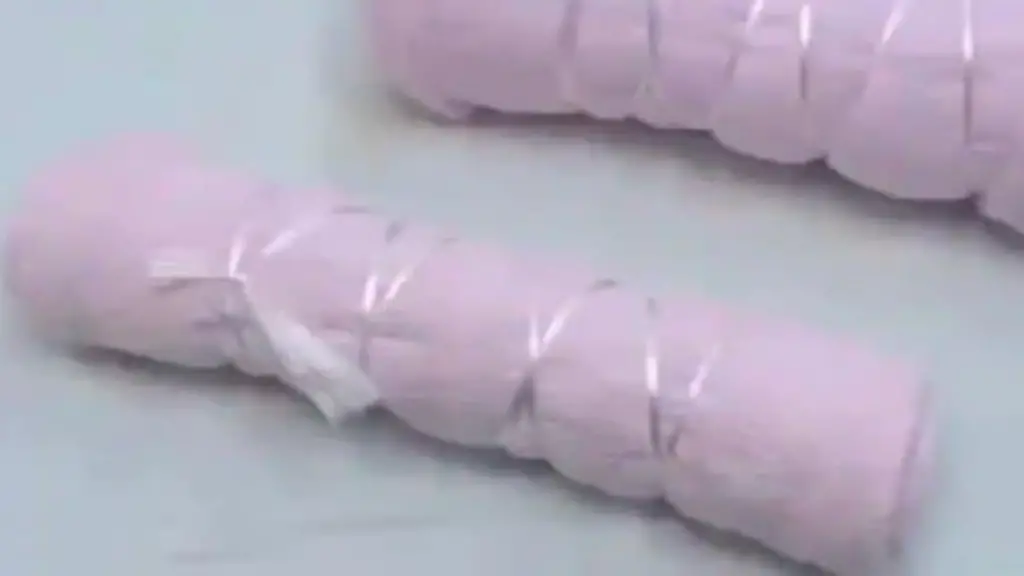 STEP 5 – Sit down on a flat, hard surface. A yoga mat for bad knees will work best as it offers you more cushions.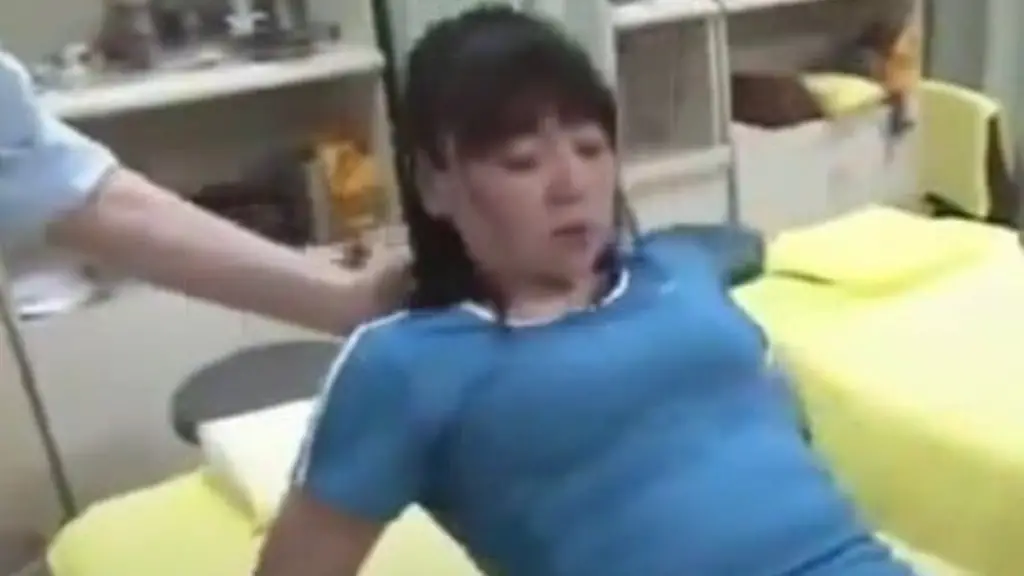 STEP 6 – Carefully put the towel where your spine starts to curve – the height of your navel.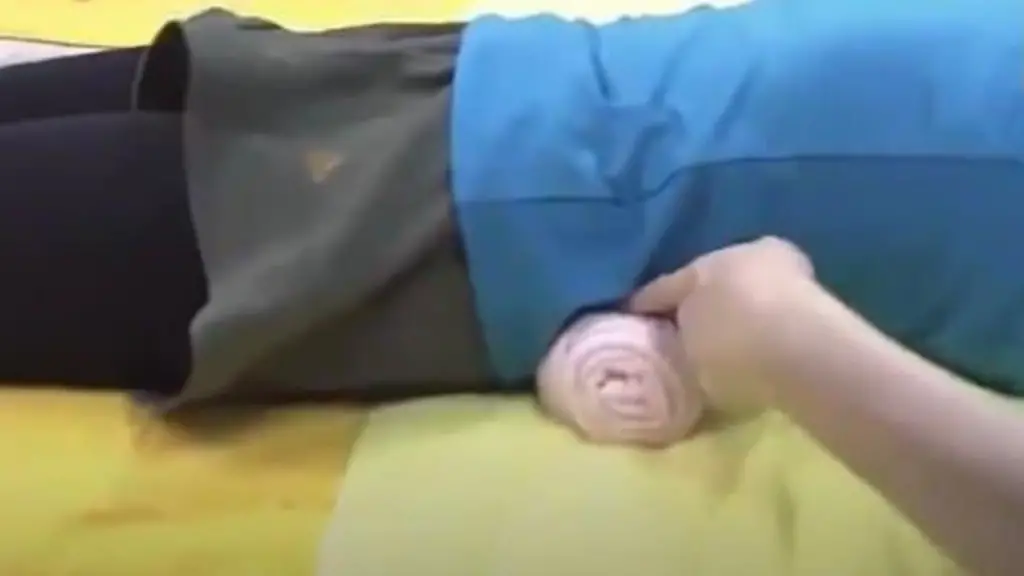 STEP 7 – Make sure your feet are shoulder-width apart.
STEP 8 – Point your toes up and inward at one another, then bring them together.
STEP 9 – Extend both your arms above your head.
STEP 10 – Make sure your palms are facing down.
STEP 11 – Make sure your pinkies are touching each other.
STEP 12 – Now, hold this pose for at least 5 minutes. Just relax and put yourself in a comfortable posture. Repeat the exercise 3 times a day for at least two weeks for optimal results.
STEP 13 – You may feel sore at first; however, try and keep this position. It gets more comfortable with practice.
STEP 14 – To Get up: First, bend your knees, second turn to your side, and then stand up gently, as your bones and joints may have been slightly affected during the exercise.
Japanese Towel Exercise How Many Times a Day?
The Japanese towel exercise requires little to no equipment (just a towel), and you spend no more than 5 minutes per session doing it; you can lessen your back pain, lose weight, and improve your life in many other ways.
Performing the Japanese towel exercise 3 times a day will help you eliminate the stubborn stomach fat near the waist and enhance your overall body posture.
What is The Science Behind The Japanese Towel Exercise?
Dr. Toshiki Fukutsuji claims that individuals with pelvic misalignment tend to store more fat around the waist and that by aligning the hip bones, you can shed that fat.
In fact, our entire organs and limbs, including the intestine and stomach, connect to the brain via the vertebral column.
The part of the spine connecting the ribs and the small of your back is where the intestine nerves are connected: therefore, if you bow or push your pelvis too far back, it may create indigestion issues, like constipation, gas, bloating, and acid reflux.
A study found that body posture has a vital influence on intestinal gas propulsion. The researchers observed that patients with irritable bowel syndrome and functional bloating generally report that abdominal symptoms tend to resolve with bed rest.
 But, while constipation and bloating may make your belly appear bigger, it is not fat, just the waste that is not being excreted. So when you correct your posture, you start to release the nerves and realign your organs; once extra gas and fecal masses are flushed out, you will certainly appear slimmer and lose a few pounds.
You do not lose actual weight this way – it is unlikely to burn fat by lying down – but you appear thinner due to decreased bloating.
Besides digestion, correcting your posture can help you prevent neck pain and headache, muscle atrophy and weakness, sciatica, breathing issues, and chronic and acute pain in the back, neck, and shoulder.
Regularly practicing callanetics and yoga may help realign your back, hips, legs, and feet; do not expect miracles. Proper realignment may take time; however, it will do you a world of good.
See also: 27 Powerful Yoga Poses for Immune System
Benefits of Japanese Towel Exercise
If you are not a big fan of cardio or other high-intensity workouts and don't feel like sweating it out, the Japanese towel exercise might be the perfect workout. It is a method of losing weight with a towel that can help you shape your waist and improve your posture using only a towel.
This Japanese towel exercise is perfect for those who do not have time to hit the gym or do not have any weights or gym equipment at home.
The Japanese exercise to lose belly fat has tremendous benefits. It may increase your height by a few centimeters and reduce the abdominal perimeter by up to four centimeters.
See also: Best Time To Do Yoga For Weight Loss For Optimal Results
Benefits 1: Japanese Towel Exercise for Back Pain
The Japanese towel exercise is a posture-correction technique that helps people combat back pain while strengthening their abdominal muscles. According to Dr.Toshiki Fukutsuji, this type of posture correction may also lead to long-term weight reduction.
Weak back and abdominal muscles can induce or worsen low back pain. Check these 28 simple and effective back pain exercises at home to help you strengthen the muscles that support your spine and further reduce low back pain.
Make sure to check with your doctor or therapist if you have chronic back pain.
See also: Best Fitness Tracker For Yoga And A Healthier Life
Benefits 2: Japanese Towel Exercise for Posture
Japanese towel exercise is a method to lose weight and improve body posture. Dr. Toshiki Fukutsuji created it as a solution to prevent bad body posture and strengthen the abdominal muscles. He claimed that this approach could reduce your pelvic bone problems and decrease the extra weight around your waist.
According to Toshiki Fukutsuji, back pain and the layer of fat around the belly are misplaced pelvis results. Doing the  Japanese towel exercise can help correct the pelvis placement by placing a towel under your waist, supporting your back as you stretch your body.
This technique can help lessen acute/chronic lower back pain associated with herniated lumbar disc, sciatica, sacrum, and pelvic tightness.
See also: The Best Ten Teas For Weight Loss
Additional Benefits Include:
Help reduce your stress levels
Help reduce anxiety
Help relieve neck pain
Help you lose weight
Improving your feelings of dominance and power
Help to strengthen your core
Improve breathing
For optimal results, I would recommend combining the Japanese towel exercise with your yoga practice. You will experience great results.
Always remember that successful weight loss is a result of a combination of a healthy diet and exercise such as running, jogging, cycling, yoga, and strength training.
However, there is still a debate on whether the Japanese towel exercise can help lose weight.
Does the Japanese Towel Exercise Really Work?
Cassey Ho, fitness influencer and creator of Blogilates, agrees that Japanese towel exercise may help lower back pain and fix your spine.
However, Cassey believes that there is no shortcut to weight loss. In other words, to lose weight, you will need to exercise and eat healthily to burn the layered fat covering your abs.
According to Harvard, stretching and strengthening your back and abdominal muscles are essential for treating low back pain and preventing a recurrence of the problem.
Since the Japanese towel exercise aims to help you stretch and strengthen your back and abdominal muscles, it may help reduce and prevent back pain.
Final Thoughts
Overall, the Japanese towel exercise is a low-intensity workout that will help you reduce back pain and improve other aspects of your life.
Do not count only on the Japanese exercise to lose belly fat; incorporate other types of low-impact exercises such as these 25 Best Yoga Exercises To Lose Weight Faster And Look Gorgeous [With Videos]
For optimal results for using Japanese exercise to lose belly fat:
Kindly share the Japanese towel exercise method with friends and family to help them improve their overall health.